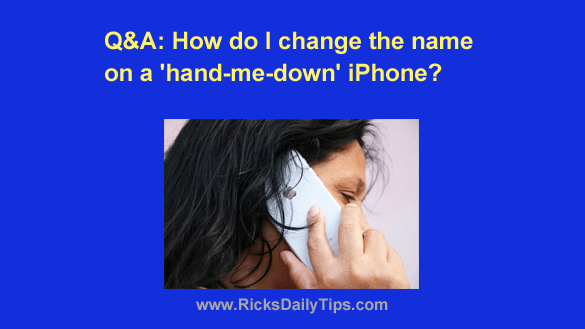 Click here to sign up for my free Rick's Tech Tips Newsletter!
---
Question from Laurie:  My son had been begging me for a new iPhone for a while so I finally gave in and got him one for his birthday.
My own phone was starting to have battery issues so I decided to take over my son's iPhone 8 after he received his new phone.
The problem my son's name still shows up when I log into certain apps on the iPhone 8.
How do I change the name of this phone from my son's name to mine?
Rick's answer:  This is a very common situation, Laurie. People sell or give their iPhones to other users all the time which leads to the sort of "identity confusion" you're experiencing right now.
I know you asked how to change the name on the iPhone from your son's name to yours, but I have another recommendation for you…
I believe it would be a lot better to simply reset the phone back to its factory defaults and start fresh with the device.
That way any sensitive info that your son had stored on the phone will be erased. And as a bonus, your iOS installation will be completely free of clutter.
Now that being said, if you'd rather not reset the phone for whatever reason it's actually very easy to change the name associated with it. Here's how:
1 – Tap Settings.
2 – Tap General.
3 – Tap About.
4 – Tap on the name of the device (in your case, your son's name) and then change that name to your name (or whatever name you wish to give it).
5 – Tap Done.
That's all there is to it changing the name. From now on your name should show up instead of your son's when you log into your favorite apps.
Now, here's another recommendation for you to consider…
If you opted not to reset the phone I recommend that you at least go through the list of installed apps and delete any apps that you don't plan to use.
That will accomplish three very important tasks:
1 – It'll free up the resources that those unused apps were taking up, making those resources available for the apps that you do use.
2 – It'll make the device more secure by removing several potential entry points for hackers.
3 – It'll remove any sensitive information belonging to your son that might be stored by those unwanted apps.
I hope this helps, Laurie. Good luck!
---
Cick here to ask me a tech question.