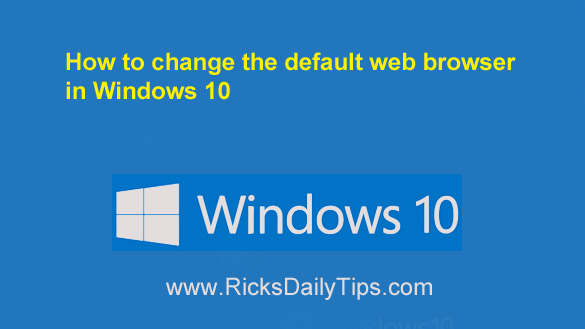 If you're new to Windows 10 you might have noticed that your current default web browser is Microsoft Edge.
Personally, I like Edge and I use it on occasion, but like many others I prefer having a different browser (Google Chrome) set as my default browser.
If you'd like to change your default web browser from Microsoft Edge to Firefox, Chrome, Opera or any other browser that you might happen to prefer, simply follow these steps: 
1 – Press the Windows+S key combination to open a "Search" box.
2 – Type the word default into the Search box, then select Default apps from the list of search results..
3 – Scroll down to the Web browser section and click on the name of the browser that's currently listed there (most likely Microsoft Edge if the default browser was never changed in the past).
You should now see a menu listing all of the web browsers that are currently installed on your machine.
4 – Click the name of the browser you wish to set as the default browser.
5 – Click the X in the top-right corner of the "Settings" window to close it.
That's all there is to it. You have just successfully changed your default web browser to your preferred browser.
By the way, you can easily change the default app for performing many other tasks on that same page. Simply select the category you wish to change and make your selection.
---