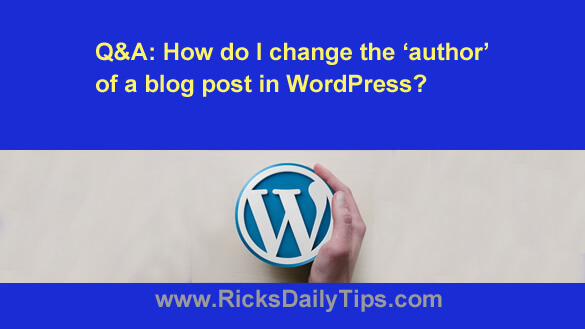 Question from Carla G.:  I have a WordPress blog and a while back I read your post explaining why we should write our blog posts using an "Editor" account instead of the "Administrator" account.
I set up a new account with the Editor role as you suggested and I've been logging into that account to do my writing ever since.
Yesterday I happened to notice that my old posts still have the Author name that corresponds to the Administrator account that I no longer use when writing my posts.
I tried to change the Author of one of those old posts to my other name and I can't find a way to do it anywhere on the "Edit Post" screen. I know there has to be a way to do it though.
Can you tell me what I need to do to change the Author name on my old posts?
Rick's answer:  You're right, Carla. There is no option on the "Edit Post" screen for changing the post's author name. But it can be done, and it's actually relatively easy. In fact, you can change the author for multiple posts at once!
Follow the steps below to change the author name on your older posts:
1 – Log into your WordPress Dashboard using the username and password for your Administrator account (only accounts with Administrator privileges can change post author names).
2 – Click the Posts link on the Dashboard menu.
3 – Type the Author name that you want to change into the search box in the top-right corner of the window, then click Search Posts. You should now see a list of all the posts that were written using your Administrator account.
4 – Just above the first post in the list you should see the word Title with a check box beside it. Check that box to select all the posts on the first page of the search results.
5 – Click the Down Arrow in the "Bulk Actions" field and select Edit from the drop-down menu.
6 – Click Apply. You should now see a list of things you can change about the selected posts.
7 – Find the "Author" field and click the Down Arrow to display a list of all your blog's authors.
8 – Select the Author name you wish to assign to the selected posts, then click the Update button.
9 – Repeat steps 4 – 8 above for each of the remaining pages of posts returned from your search.
That's all there is to it, Carla. Every post on your blog should now have the correct user assigned as its author.
Note: Be sure to log out of your Administrator account and back into your Editor account before you begin writing your next post. That will prevent you accidentally writing another post under the wrong Author name.
I hope this helps, Carla. Good luck!
Bonus tip: This post offers 10 tips to prevent your WordPress blog from getting hacked.
---
Never miss a tip!  Click here to sign up for my free Daily Tech Tips Email Newsletter!