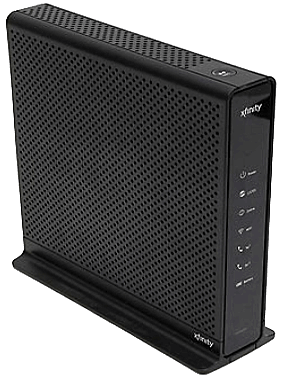 Question from Bethany Y.:  Comcast just replaced my old cable modem with a new Xfinity Modem/Router (Model # SMCD3GNV). The wired connections work perfectly, but I can't get any of my wireless devices to connect via Wi-Fi.
The Wi-Fi signal is very strong and I've checked the Wi-Fi settings several times and everything seems to be correct. But I just can't get any of my devices to connect.
Any idea how to fix this? I called Comcast tech support 3 times and the foreigners on the other end of the line can't help me.
They finally scheduled a service call from a technician but they won't be here for almost a week! I need my Wi-Fi working ASAP!! I really hope you can help me.
Rick's answer:  This is a common issue with the new Xfinity routers Bethany. There are several possible "fixes" floating around on the web, but the only one that seems to work consistently is changing the encryption method from the default setting to WPA2PSK-AES.
Follow the directions below to make the change on your Xfinity SMCD3GNV Modem/Router:
1 – Open a web browser and type this address into the address bar:
http://10.0.0.1/
2 – Enter the router's username and password to log into the router setup utility. You'll find the default username and password in the router's setup manual.
3 – Once you're logged into the router, click on Connection, then click on WiFi.
4 – Find the line that contains your network name and click the Edit button in the "Security Mode" column.
5 – In the "Security Mode" drop-down box, select WPA2PSK-AES.
6 – Click the Save Settings button, then close the web browser.
7 – Unplug the power cord from the router, leave it unplugged for a full minute, the plug it back in. It will take several minutes for the router to re-initialze, but when it's back online you should be able to connect your wireless devices to the router via Wi-Fi.
Update from Bethany:  I made the changes you suggested and now my iPhone and laptop connect every time! Thank you!!!!!!
---
Do you have a tech question of your own for Rick? Click here and send it in!