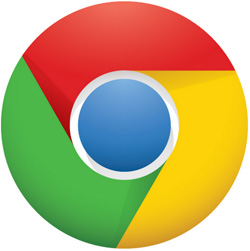 Question from Kenneth O.:  I started using Google Chrome instead of Internet Explorer a while back, and I really like it.
But starting last night I can't get to certain websites in Chrome even though I can get to them just fine in other web browsers.
As far as I know I haven't changed any settings or anything. What could be the problem?
Rick's answer:  There are a number of possible causes for this problem Kenneth, but the two most common (and most likely) are having your browser set to use a proxy server or corrupted cookies on your hard drive. The following steps will eliminate both possibilities: 
1 – Load Chrome, then click the Menu icon in the upper right-hand corner of the screen (it looks like 3 dots stacked vertically).
2 – Click Settings.
3 – Scroll to the bottom of the page and click the Advanced link.
4 – Scroll down to the System section and click Open proxy settings.
5 – After the Internet Properties window pops up, click the LAN settings button.
6 – Make sure the box beside Use a proxy server for your LAN is unchecked, then click Ok. Now, click Ok again.
If that box was previously checked, try visiting a website that you couldn't reach before and see if it will load now.
Important: The box mentioned above isn't checked by default. The fact that it was checked could mean you have malware on your system. If so, this post will explain how to get rid of it.
If the proxy server setting wasn't the culprit, try clearing the cookies that Chrome has stored on your hard drive. Here's how:
1 – Click the Menu icon (the 3 vertical dots) in the upper right-hand corner of the screen again.
2 – Click Settings.
3 – Scroll to the bottom of the page and click the Advanced link.
4 – In the Privacy section, click Clear browsing data.
5 – In the drop down box beside Clear the following items from, select the beginning of time.
6 – Check the boxes beside the top 4 entries, then click Clear browsing data.
You should now be able to access the websites that you couldn't get to before. If not, let me know and we'll go from there.
Update from Kenneth: Rick, it was the cookies. After I cleared them out everything started working just fine. By the way, the proxy server setting was unchecked. Thanks for your help!!
Bonus tip #1: This post explains how to quickly change the text size in your Chrome browser.
Bonus tip #2: Want to make sure you never miss one of my tips? Click here to join my Rick's Tech Tips Facebook Group!
---
Do you have a tech question of your own for Rick? Click here and send it in!
If you found this post useful, would you mind helping me out by sharing it? Just click one of the handy social media sharing buttons below.