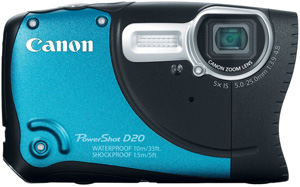 Have you ever wanted to photograph a beautiful autumn scene on a rainy day but hesitated because you were afraid the rain would ruin your expensive camera?
Or perhaps you've always wanted to try your hand at underwater photography but you think a waterproof camera would simply be too expensive?
Well, the Canon PowerShot D20 12.1MP Waterproof Digital Camera (#ad) makes it safe, fun and affordable to do those things, and a whole lot more. 
The PowerShot D20 packs plenty of functionality into its compact and durable waterproof housing. First of all, it comes equipped with a very capable 12.1 megapixel sensor that's well capable of producing high-quality images that can easily be enlarged without losing image sharpness or contrast.
As for durability, this camera simply cannot be beat for the price. In addition to being waterproof down to 33 feet, it is also shock-proof up to 5 feet and it's built to operate at any temperature between 14 and 105 degrees Fahrenheit!
You can easily shoot full 1080p HD video with the touch of a button, and the 28mm wide-angle lens with 5x optical zoom and image stabilization ensure that you'll always be prepared to capture any shot when the opportunity arises.
The PowerShot D20 also features a large 3.0-inch Pure Color System LCD for easy viewing as well as a GPS tracker to record image locations.
The buttons on this camera are well positioned and easy to use even while wearing a pair of gloves.
Bottom line: This camera is perfect for shooting outdoors under a wide variety of weather and environmental conditions.
Whether you want to capture the beauty of a coral reef, document the ferociousness of an extreme weather event or capture stable full HD video of your latest mountain bike ride, this great little camera can do it all! And since it's made by Canon, you can rest assured that it'll do it well.
Click here # to check out the Canon PowerShot D20 12.1MP Waterproof Digital Camera at Amazon.