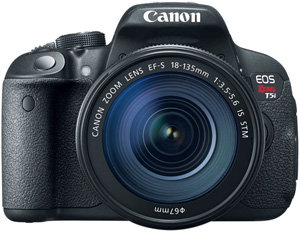 Canon is known for making top-quality cameras for everyone from the rank beginner to the seasoned pro, and their DSLRs are among the best in the business.
I've used several Canons over the years, and I can't recall a single one of them that I didn't like.
I recently had the opportunity to check out the Canon EOS Rebel T5i Digital SLR with 18-135mm STM Lens combo, and it's a fantastic setup for taking most any kind of photo under a wide range of conditions. And now that the T6i is out, this is the perfect time to pick up its predecessor at a great price. 
The T5i starts up fast, and it captures images that are sharp and vibrant thanks to an awesome 18 megapixel CMOS (APS-C) sensor and DIGIC 5 image processor. It performs exceedingly well in low-light situations.
In my opinion, the feature that really sets this camera apart from many others in its category is its responsive, easy to use 3 inch touch screen that augments the standard rotary dial for quick access to certain features. Just a quick tap is all it takes to perform some common tasks.
Another thing that I really love about this camera is its handy "Hand-Held Night Scene" mode which allows you to capture great images in low light. There is little to no perceptible image noise even at the higher ISO settings, and the Hand-Held Night Scene mode takes full advantage of that.
The included 18-135mm STM lens with image stabilization is perfect for capturing a wide range of shots without having to swap lenses. You can go from capturing a wide-angle close-up shot of a flower to zooming in on a far-away deer in just a second or two.
With the expanded range of this lens and the built-in image stabilization, you won't have to worry about missing a shot because you didn't have time to change lenses or mount the camera on a tripod.
The T5i also shoots high quality full HD video, but while the videos are sharp and clear, they do tend to be a little less smooth than videos taken with some other DLSRs in the same price range. But this mostly occurs when shooting video while zoomed in close to the max.
Bottom line: The Canon T5i and 18-135mm STM lens package makes it easy for photographers of all skill levels to take great photos under a wide variety of conditions. The price is right, and since it's a Canon you know you can count on it to last.
Canon has already introduced the EOS Rebel T6i, making this the perfect time to save money on its predecessor.