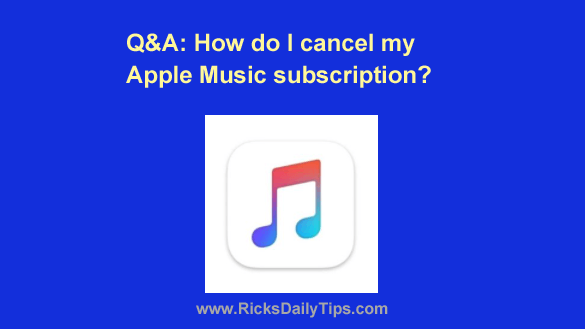 Question from Keisha L.:  I've been using Apple Music for several years but I recently signed up for a different service that I like better.
Since I don't use Apple Music anymore I'd like to cancel my subscription. The problem is I don't know how.
Can you tell me what I need to do in order to cancel my Apple Music subscription?
Rick's answer:  I'll be glad to help you with that, Keisha. It's actually pretty easy once you know where to look.
You didn't mention the type of device you're using so I'll provide instructions to use for both iOS devices and Macs…
If you use an iPhone or iPad:
1 – Open the Settings App.
2 – Tap on your name.
3 – Tap Subscriptions.
4 – Tap Apple Music Membership.
5 – Tap Cancel Subscription.
If you use a Mac:
1 – Open the App Store app.
2 – Click on your name at the bottom of the sidebar.
3 – Select the View Information option at the top of the window and sign in (if prompted to do so).
4 – Scroll down to the "Subscriptions" section and click Manage.
5 – Find the "Apple Music" subscription and click Edit.
6 – Click Cancel Subscription.
That's all there is to it. Your Apple Music subscription will expire at the end of your current billing cycle.
If you ever change your mind and decide to subscribe to the Apple Music service again, you can easily do so.
I hope this helps Keisha. Good luck!
Bonus tip: This post explains how to quickly find the warranty status of your Mac, iPhone or other Apple device.
---
Never miss a tip!  Click here to sign up for my free Daily Tech Tips Email Newsletter!