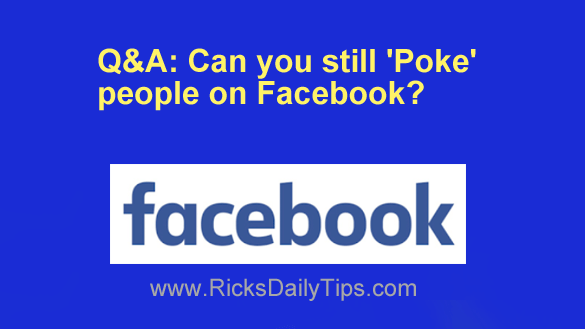 Question from Tina:  You'll probably think I'm silly Rick, but I love poking my friends on Facebook.
I used to do it all the time but the poke button seems to be missing now.
Can we still poke people or has Facebook removed that option?
Rick's answer:  I don't think you're silly at all, Tina. Lots of folks enjoy poking their friends on Facebook.
To answer your question, you can still poke your friends but you won't find a button or menu option anywhere on the Facebook website or in their mobile app to do it.
For whatever reason, Facebook has decided to hide the Poke feature from everyone except the users who are determined enough to seek it out.
That being said, it's still very easy to find your "Pokes" page. Just follow the steps below:
1 – Log in to your Facebook account (you can use either the Facebook website or the app , your choice).
2 – Type the word pokes into the search box.
3 – Click (or tap) the first entry in the list of search results. You should now see your "Pokes" page on the screen.
4 – Type the name of the friend you wish to poke into the search box.
5 – Find the name of your friend in the list of search results and click (or tap) the Poke button.
That's all there is to it. Now you know how to poke someone on the new (and presumably improved) Facebook.
By the way, I recommend that you enjoy the "poking" while you can because I fully expect Facebook to ditch the feature altogether at some point via a future update. Just sayin'.
I hope this helps, Tina. Good luck!
Update from Tina:  Thanks, Rick. I knew you'd know the answer.
---