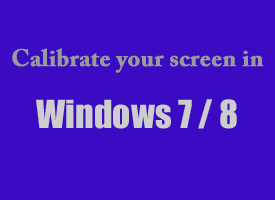 Here's the scenario: You take a great picture, spiff it up a bit in your favorite photo editing program, then sit back and admire the rich colors that look pretty much exactly as you remember them looking when the picture was taken.
But there's a problem. When you print the photo or view it on another computer, the colors look absolutely horrible!
If this happens to you, the culprit is most likely a miscalibrated computer screen. Windows 7 includes a nifty utility that can help you calibrate the colors on your monitor. It's called the Display Color Calibration Wizard, and here's how you use it: 
1 – In Windows 7, type DCCW into the Windows 7 search box, then press the Enter key. (Click the "Start" button to display the search box.)
2 – In Windows 8, at the "Start Screen" type Calibrate Display Color.
3 – Follow the prompts on the screens that follow. Yes, it really is that simple!