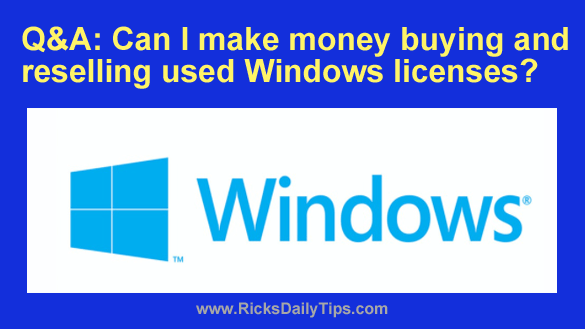 Question from Marsha:  I have a question about Windows licenses and I know you'll probably be able to answer it.
I received an email from a man who said he has collected over 1,000 Windows 7 license codes from junked PCs over the course of several years.
He's offering to sell all of those licenses to me for only $5 each. He said I can sell them online for at least $20 each.
What I'd like to know is does this deal sound legit to you? 
I'm recently retired and interesting in trying my hand at Internet marketing, so I'd hate to miss out on a golden opportunity if this in fact is one.
What do you think? Is this something you would recommend?
Rick's answer:  Marsha, I'm really glad you asked for advice before you accepted this "offer".
The short answer to your question is no, this isn't a deal that I would recommend, for the following reasons:
1 – If I understand your message correctly, this deal just showed up in your email inbox from out of the blue. That's the first clue that this is almost certainly a scam.
With very few exceptions, only scammers contact complete strangers via email offering to engage in a business deal of this nature.
2 – If this guy claims you can sell those Windows licenses for at least $20 each, why on earth would he be willing to sell them to you for just $5? I know I sure wouldn't.
3 – Microsoft has abandoned Windows 7 and they are no longer providing security updates for it. That means there's no longer a market for Windows 7 licenses at any price.
Bottom line: I know how tempting a deal like this might be to someone in your situation, but I recommend that you steer way clear of this "offer".
This guy is out to rip you off, and once he has your money you'll never hear from him again.
Update from Marsha:  I thought this was too good to be true but I wanted to know for sure before I turned it down. Thanks so much for your help.
---