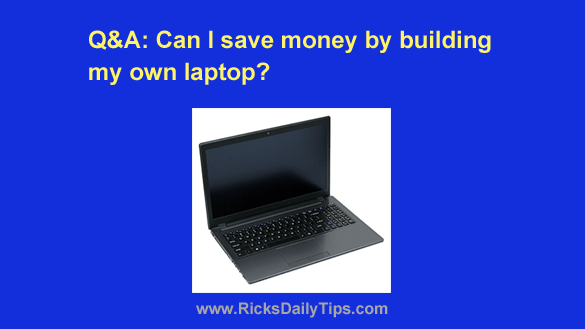 Click here to sign up for my free Rick's Tech Tips Newsletter!
---
Question from Adam J.:  I read an article the other day that discussed the advantages and disadvantages of building your own computer from scratch as opposed to buying one off the shelf.
It really caught my attention when they said that you can save money by building a PC with used parts purchased on eBay.
I'd really like to build my own computer and save some money, but the article only discussed building a desktop computer. I already have one of those so what I really need is a laptop.
In your opinion, is it really possible to save money by building my own laptop? And if so, do you have any tips?
Rick's answer:  Adam, in my opinion it really isn't possible to save money by building a laptop instead of buying one at retail.
Unlike desktop computers, laptops are constructed from proprietary parts that aren't standard from manufacturer to manufacturer.
This means it would be extremely difficult to buy a laptop case and populate it with a good used motherboard, video card, RAM and hard drive like you could if you were building a desktop PC.
The reason is there are simply very few working used laptop parts available for purchase, and the ones that are available must go into a laptop case that was designed to hold them.
Now the above being said, there are companies that sell barebone laptop kits that you can use to build a working laptop by purchasing the "extras" you need and installing them yourself.
Barebone kits sometimes include everything except for the CPU, RAM and hard drive or SSD. You would need to purchase those components separately (either new or used).
The thing is, by the time you finished purchasing the barebone kit and the extra parts needed to turn it into a working laptop, you wouldn't save any money over buying an off-the-shelf laptop.
In fact, building from a kit would likely cost you more than simply buying a new laptop (#ad) even if you were able to find the used parts required to finish building out the kit.
What's more, if you wanted to run Windows on the machine you'd have to pay extra for a Windows license as well.
As you can see, building your own laptop is certainly an option (if you consider simply adding a CPU, RAM and hard drive to a barebone kit to truly be "building" one).
If you want to do that just for the fun and experience of it, then by all means do it. Just don't plan on saving any money in the process.
---
Cick here to ask me a tech question.