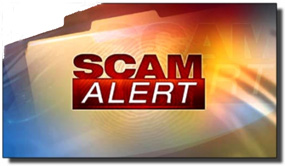 The Internet is a haven for legions of scammers who use it to deliver all manner of fraudulent "offers" to potential victims.
One of the most dangerous scams you're likely to encounter on the web is making the rounds right now via email.
As usual, there are several variations of this scam, but they all work pretty much the same way…
You receive an email from someone posing as a lender that states they're wondering if you're still interested in taking out a loan.
They then explain that it's very easy just to check to see which interest rate you qualify for.
The email provides several links for you to click on to enter your personal information to supposedly check your interest rate.
Here's a screenshot of one of these emails that landed in my inbox a while back: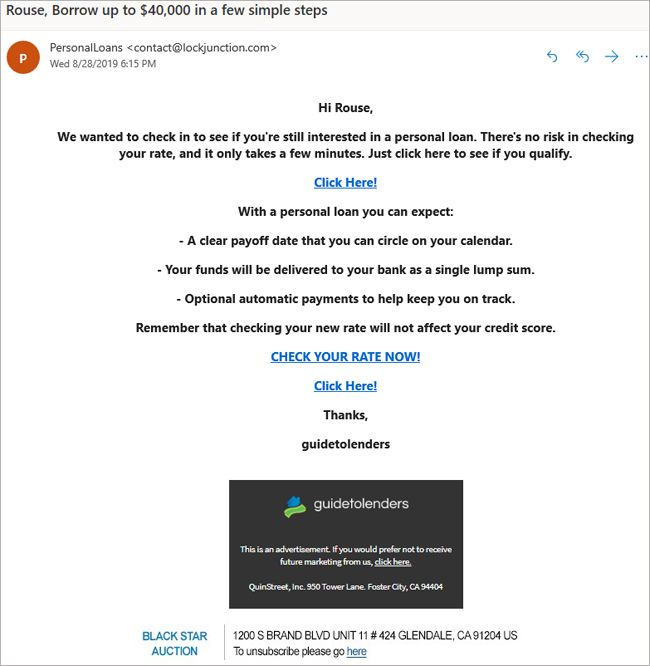 As usual, there are several clues that this email is fraudulent:
1 – The subject line makes a promise that they might not be able to keep (not everyone can qualify for a loan, for various reasons).
2 – They make it sound like you inquired about the possibility of taking out a loan and they're wondering if you're still interested. Of course you probably didn't make such an inquiry in the first place.
3 – They state that just checking your interest rate won't affect your credit score. This is misleading at best since they would have to run a credit check to determine which rate you would qualify for.
That might not affect your credit score directly but it would definitely show up as an "inquiry", and too many inquiries can result in you being denied credit.
4 – They offer multiple calls to action (Click here, Check your rate now, etc.) within a very short block of text.
5 – They offer an "Unsubscribe" link even though you never "subscribed" in the first place.
Warning: DO NOT click that unsubscribe link. Read this post to find out why.
Bottom line: If you click on any of the links in the body of the email you'll be taken to a web page with a form where you can enter your personal and financial info (they claim they need this info to determine which interest rate you qualify for).
If you fall for the scam and click one of those links, one or both of the following will happen:
1 – The fake inquiry page will will download malware onto your computer or mobile device.
2 – The fraudulent form on that page will capture your name, address, phone number and SSN. The scammer will then use that info to assume your identity and apply for loans and goodness knows what else in your name.
As you can see, this is one of the most dangerous scams ever. Don't fall for it!
If you receive an email similar to this one simply delete it without even opening it.
If you do happen to mess up and open it, don't click on any links and don't use that oh-so-tempting "Unsubscribe" option!
And if you really mess up and click one of the links, don't fill out the form. Instead, exit the page, delete the email and immediately run a thorough series of malware scans on your PC.
Bonus tip #1: Click here to read about several other scams and hoaxes that are making the rounds right now.
Bonus tip #2: Want to make sure you never miss one of my tips? It's easy! Just…
Click here to sign up for my free Rick's Daily Tips Email Newsletter!
---
Would you like to ask Rick a tech question? If so, click here and send it in!
If you found this post useful, would you mind helping me out by sharing it? Just click one of the handy social media sharing buttons below. Thanks a bunch!