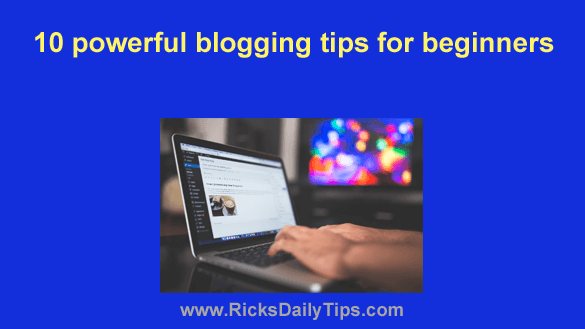 Anyone can start a blog in a few minutes, but if you want to market an existing business or start a new one with your blog, you'll need to be more strategic.
In this list of tips for new bloggers, you'll find the ideas that we've found to be the most helpful in professional blogging. 
Make sure to save this list of tips for beginning bloggers so you can come back to it as you learn more.
1 – Make a plan for your content
A content plan is a document that tells you what kinds of content you want to put out and when. For instance, if you're making a blog about personal finances and investing, you might come up with a plan like this:
– On Mondays, post the "money tip of the week."
– Every Wednesday, post a new part of "My Money Mistakes."
– "Stock Spotlight" should be posted every Friday.
You might also want to include a list of article ideas for each type of content, but we like to keep article ideas in a separate document. For research purposes you can use a Virtual Private Network like VeePN to unblock sites that contain topic specific content. Whatever you write, VeePN can help with collecting content and then you can use the same VeePN for customizing and producing your own specific content.
VeePN not only allows access to blocked sites but also a faster and safer connection, as you can read reviews VeePN. For beginners, a VPN like VeePN is a great tool especially for starting out in the field of blogging.
2 – Make a schedule for writing
When you're making your content plan, take some time to think about when you'll actually write the content you plan to publish. Then you can add this schedule to your planner or calendar app of choice.
One of the most common ways to make sure there is a steady flow of content is to do tasks in large blocks of time. In this case, that means setting up regular writing days for each type of content and trying to write several articles of that type at once.
Using the above schedule as an example, you might write "financial tip of the week" articles on Friday, then choose one to publish the following week. If you do this twice a month, you'll always have extra articles on hand in case you need them for a trip or an emergency. Again, you can use a VPN like VeePN for researching and planning your writing content.
3 – Think about SEO when choosing the name and title of your blog
Even if the title of your blog sounds fun, if it's not optimized for SEO, you're missing out on one of the best tips for new bloggers. If you pick the right title and domain name for your blog, it will be appealing to both people and search engines. This will make it easier for you to rank for a keyword.
4 – Make sure your blog is on the right platform
There are two main ways to host a blog: on a free site like WordPress.com or on your own server. You don't need to know how to code to build a website or blog with these platforms. They will also host your site for free, giving you something like sitename.wordpress.com as a subdomain. Some may also let you link your blog to your own domain. But on free blogs, these platforms often show ads and limit the ways you can make money from your site.
Using a CMS (content management system) on a site that you host yourself. With this option, you buy web hosting from a site like Bluehost and install a content management system (CMS) like WordPress. Some platforms for websites, like Squarespace, may also have their own content management systems. These sites won't put ads on your website and will give you more freedom in how you design it and how you make money from it.
5 – Get started right away with your analytics
Analytics are powerful tools that can help you figure out who your main audience is, how many people different marketing campaigns bring to your site, and how people use your site. This information can then be used to help make decisions about design, marketing, and even the creation of new products and services. And your analytics will work best if they are set up before you make your first post.
6 – Make sure your site loads quickly
73% of users will leave your site if it doesn't load fast enough, and "fast enough" is probably a lot faster than you think: in just three seconds, the chance of a user "bouncing" off your site goes from 1% to 31%. Because of this, it's important to cut off every second you can from your loading time.
7 – Keep your website safe
This is one of the first-time blogging tips that most people don't pay attention to until it's too late. Get ahead of the game and make your site safer by taking precautions early on.
8 – Pay special attention to your headlines
Every headline needs to give people a reason to care about what's inside, or they'll just keep scrolling. One of the easiest ways to do this is to make someone feel a certain way. For example, if you're writing an article about how to keep your website safe from hackers, you might try to scare people with the title.
9 – Build your content around the ideas of Search Engine Optimization (SEO)
SEO can help you, and you don't have to be a trained professional to use it. You just need to keep in mind a few rules as you write:
– Pick a keyword to focus on for each article.
– Make sure that keyword is in your article's first paragraph.
– Use the word about once every 300 words.
– Mix internal and external links into your writing.
– Add alt text to all images and make sure that about half of them have your focus keyword in the alt text.
You don't even have to always remember these rules. You can use an SEO plugin to look over your content and make changes based on what it says.
10 – Use images of good quality
Articles with pictures get 94% more page views than those without pictures. Even just one picture can make a big difference in how many people see an article, but you have to be careful about which pictures you use. You don't want to risk using an image that is protected by intellectual property rights or make your website look old by using a low-quality image. You can use VeePN to access specific sites as well.
Final Words
It can be scary to start a blog, but it doesn't have to be. Keep this list of the best tips for blogging and look at it when you're stuck. You'll find that you can always do more to be successful at blogging.
---