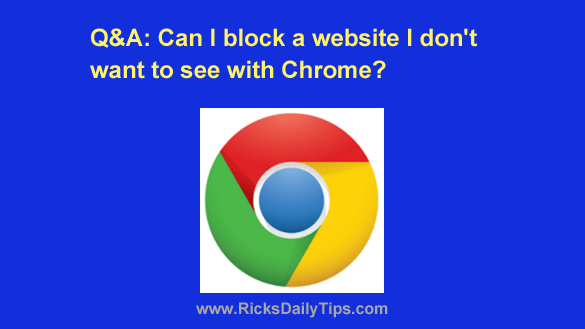 Question from May:  I love your site, Rick. I read it every day and find your info to be so helpful!
I hope you can help me solve a problem I'm having with my Chrome browser (it's the only browser I use).
When I do web searches I seem to get a lot of results from Tumblr, and many of the ones I click on are really nasty pages that I'd rather not see.
I try real hard to avoid clicking on any Tumblr links when I search for things but sometimes I mess up and click one by accident.
Is there any way to completely block ALL pages from Tumblr without also blocking any other websites?
I looked through the Chrome settings but I couldn't find a way to do it.
Rick's answer: I certainly understand your frustration with Tumblr, May. There really is a LOT of unsavory content hosted over there.
The reason you couldn't find a setting to block a specific website is because no such setting exists in Chrome.
However, there's a fantastic browser extension called Block Site (go figure!) that will allow you to block any website at all, including Tumblr.
Just follow the steps below to install the Block Site extension and configure it to block all Tumblr pages in one fell swoop:
1 – Click here to visit the Block Site extension download page.
2 – Click the Add to Chrome button.
3 – Click Add extension.
4 – (Optional) Click the green Agree button to allow the site to access info about the websites you visit. This will allow you to instruct the extension to block ALL "adult" websites by default.
If you prefer not to allow this simply click the gray Disagree button and then click the red Do Not Enable Feature button to confirm your choice.
5 – Click on the Block by Words link in the left-hand column.
6 – Type tumblr into the text input box in the right-hand pane and then click the + (plus) sign over at the far right.
7 – (Optional) I know you mentioned Tumblr as the only website you want to block, but you can also add other "problem" websites by adding them in the same way you added Tumbler. Just sayin'.
That's all there is to it. From now on any time you accidentally click on a Tumblr link in the search results you'll be presented with an error page. At that point simply click the Back button to return to your search results page and try a different link.
I hope this helps, May. Good luck!
Update from May:  Thanks, Rick. I knew you would have a good solution!
Bonus tip #1: Click here to check out a few of my other popular computer tips.
Bonus tip #2: Want to make sure you never miss one of my tips? It's easy! Just…
Click here to sign up for my free Rick's Daily Tips Email Newsletter!
---
Would you like to ask Rick a tech question? If so, click here and send it in!
If you found this post useful, would you mind helping me out by sharing it? Just click one of the handy social media sharing buttons below. Thanks a bunch!