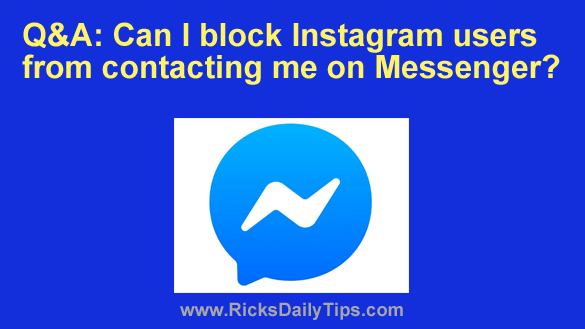 Question from Joni:  Hi, Rick. I have a question for you.
Is there a way to block Instagram message requests on Facebook Messenger?
I don't use Instagram at all and I'm getting a lot of message requests from scammers pretending to be friends of mine.
When I get a message request from a name I recognize I always hit them with my security question to see how they answer. 
Rick's answer:  This is one of the biggest issues facing Messenger users, Joni.
While it's certainly convenient for people who use both Facebook and Instagram to use the same app to converse with folks from both sites, it can be aggravating when you only use one of those sites.
Luckily, you can easily block Instagram users from contacting you on Messenger via the app's settings. Just follow the steps below:
1 – Open the Messenger app and sign in to your account.
2 – While on the "Chats" page, tap on your profile picture in the bottom-right corner of the screen.
3 – Scroll down and tap Privacy & safety.
4 – Tap Message delivery.
5 – Tap Accounts on Instagram and select Don't receive requests.
6 – Tap the Back button repeatedly until you have completely exited the Settings screens.
That's all there is to it. You shouldn't be receiving any more message requests from people on Instagram.
I hope this helps, Joni. Good luck!
---