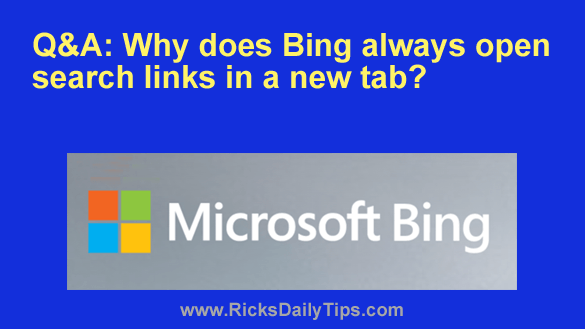 Question from Lorna:  Hi, Rick. I'm hoping you can help me solve a really odd mystery.
When I search for something on Bing and click on one of the search results, Bing always opens that link in a new tab.
That always leaves me with an extra tab to close when I'm done.
I've looked through the browser settings a dozen times but I can't find a setting that would cause this.
Can you help me find whatever it is I need to change to make search results open in the same tab? 
Rick's answer:  Lorna, you didn't say which web browser you're using, but based upon your question I can guess that you're using Edge since that's the only browser this happens with.
The reason you couldn't find the setting you're looking for in the Edge settings is because it isn't there. It's actually in the settings on the Bing website.
Truth be told, there are actually two settings that need to be changed in order to force Bing to always open search links in the same tab.
The good news is, they are very easy to find. Just follow the steps below:
1 – Open your Edge browser and visit Bing.com.
2 – Click the Settings and quick links icon on the far-right end of the Bing menu bar (it looks like three horizontal lines stacked atop one another).
3 – Click SafeSearch.
4 – The "Results" section of this page should have two options, both of which are checked by default. Uncheck both of those options.
5 – Scroll to the bottom of the page and click the Save button.
That's all there is to it. From now on every time you click on a Bing search result in your Edge browser that link should open in the same tab instead of opening a new one.
I hope this helps, Lorna. Good luck!
Update from Lorna:  Thank you! It worked!!!!! And yes, I do use Edge.
---