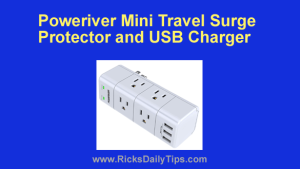 Note: The links in this post are affiliate links.
If you travel a lot you probably know what a hassle it is to have to carry a bulky surge protector and a bag full of chargers for your mobile devices along with you.
Yet in our ultra-connected world they are a necessity.
Well, I have found a great solution in the Poweriver Mini Travel Surge Protector and USB Charger. 
This awesome device is small and easy to carry while you're traveling, yet it converts any standard two-socket electrical outlet into a six-socket surge protector – plus a charger for up to three mobile devices.
The six electrical outlets on this device are surge protected. All three USB charging ports are surge protected as well, and they'll supply a combined 2.4 amps of charging current to your phones and/or tablets.
This one device will replace the chargers for up to three of your devices while also allowing you to plug up to six additional devices into its 120 volt surge-protected outlets.
The one thing that I wasn't crazy about with this unit is how it only has one set of prongs sticking out the back to plug into a wall outlet. I believe that dual prongs would have made the charger a little more stable when several devices are plugged into it at once.
During testing, it never pulled out of the wall on it's on, but it seemed to me like it could have at any moment. I suppose that's just a psychological thing with me, but I do believe a second set of rear prongs would have been beneficial.
Despite its small size (which is an essential attribute for a travel charger in my opinion), this device offers tons of flexibility for powering, charging and protecting a wide variety of small electrical and mobile devices. Plus, it's well-built and easy to carry while traveling.
Bottom line: If you're looking for just one small device that can keep all of your phones, tablets and other mobile devices charged up and ready to use when you're out on the road, this little gem from Riverpower is a great choice.
Click here to read more about the Poweriver Mini Travel Surge Protector and USB Charger at Amazon.
Bonus tip: This post explains how to fool burglars into thinking you're at home while you're on vacation.