Note: The links in this post are affiliate links.
I review portable USB chargers on here all the time, and I'm always on the lookout for a car charger that does a little something extra for its owner.
Today I'm going to tell you about a real gem of a charger from BESTEK.
The BESTEK 150w AV Power Inverter/Phone Charger will keep your smart phones and tablets charged and ready for use as well as any of them, but this nifty charger also includes a 150 watt DC to AC inverter for charging your laptop as well. 
You can plug most anything that runs on 150 watts or less of household AC power into the inverter, but it's perfectly suited for charging and powering a laptop. The two high-power USB ports will quickly charge your phone and tablet as well.
Here are several views of this inverter/charger: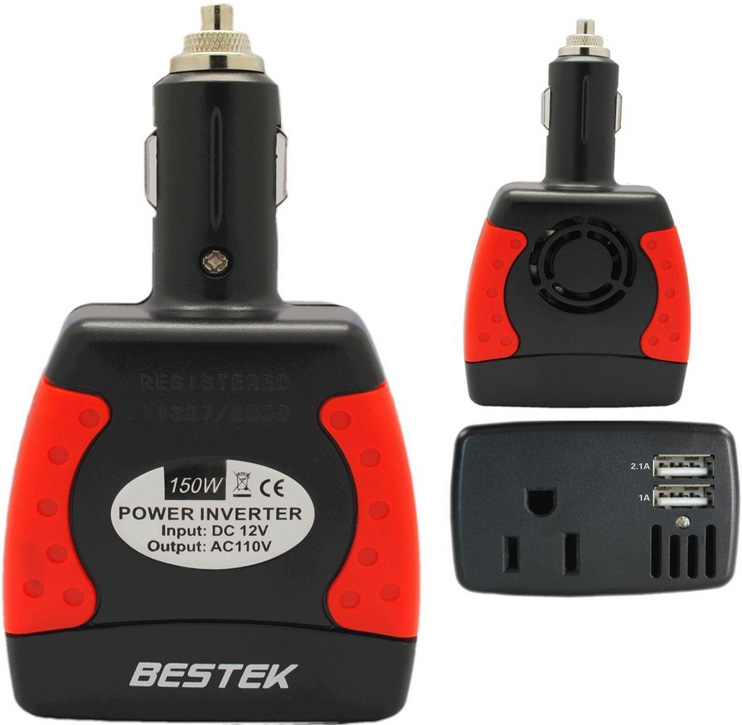 Now you don't have to decide between using a USB car charger or a DC to AC inverter. This awesome device gives you both of them in one compact unit!
Click here  to read more about the BESTEK 150 watt AV Power Inverter / Phone Charger at Amazon, including almost 1,000 overwhelmingly positive user reviews.
Bonus tip: Want to make sure you never miss one of my tips? It's easy! Just…
Click here to sign up for my free Rick's Daily Tips Email Newsletter!
---
Would you like to ask Rick a tech question? If so, click here and send it in!
If you found this post useful, would you mind helping me out by sharing it? Just click one of the handy social media sharing buttons below. Thanks a bunch!