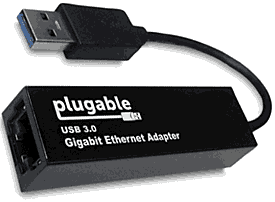 Question from Kenneth:  Hello Rick. I pastor a small church in the Dallas/Ft. Worth area.
I have a Dell Latitude E7440 laptop in my church office that I and the deacons use to access the Internet for research and church business activities.
The laptop connects directly to the modem via a wired Ethernet connection.
For various reasons we don't want to have a Wi-Fi network in the church, so we have no choice other than to connect via Ethernet.
The problem is the Ethernet port stopped working on the laptop and it will no longer establish a connection.
I know it must be a hardware problem because it won't work after booting with a Linux CD either. Everything else besides the Ethernet port seems to be working though.
My question is can the bad Ethernet port be replaced? And if it can, can I do it myself or will I need to take it to a repair shop?
Rick's answer:  Kenneth, I don't think it would make sense financially to have the bad Ethernet port replaced, for several reasons (that I won't go into here).
But what you can do is purchase an inexpensive USB to Ethernet adapter that'll effectively turn an unused USB port into an Ethernet port.
The beauty of these adapters is there is virtually no installation or setup required in order to use them. Simply plug it in, and Windows should automatically detect it and install the driver for you.
I recommend buying a USB 3.0 to Gigabit Ethernet adapter. Your laptop has three USB 3.0 ports so all you'll need to do is plug in the adapter and get right to work. Some adapters even come with extra USB 3.0 ports that you can use to attach additional USB devices to your laptop.
Click here
to see the great selection of USB to Ethernet adapters available at Amazon.
Note: The links in this post are affiliate links.
---
Do you have a tech question of your own for Rick? Click here and send it in!
If you think your friends would like this post, I'd love you to share it! Thanks a bunch!