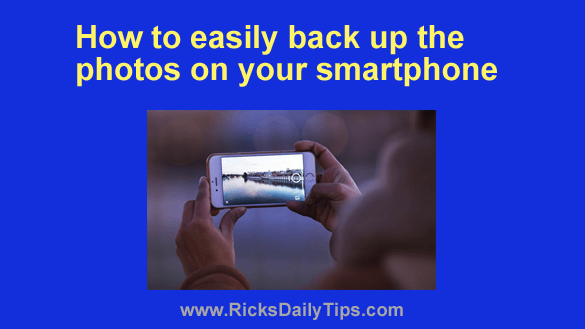 Do you have a large collection of irreplaceable photos stored on your phone?
Photos that you'd hate to lose if your phone should ever go belly-up, or get lost or stolen?
If so, there's a very easy way to prevent losing your photos if something ever happens to your phone: Keep them backed up to the cloud!
Both Google and Apple provide easy-to-use tools for automatically backing your photos up to their respective cloud storage services.
If you have an Android phone this Google Support page explains how to back up, view and restore your photos using the Google Photos app.
If you have an iPhone you can follow the steps listed on this Apple Support page to turn on iCloud Photos, which will automatically back up your photos to your iCloud storage.
Of course there are many third-party options for backing up your smartphone's photos as well, but unless you're a professional photographer who needs a bunch of extra features and capabilities, the native backup solutions mentioned above should really be all you need.
Bottom line: Don't allow a lost, stolen or damaged phone cause you to lose your precious photos along with the device. Enable automatic backups and you'll always know your photos are safe and  secure.
---