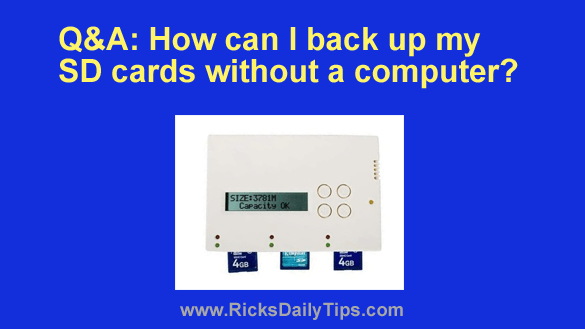 Note: The links in this post are affiliate links.
Question from Kim:  We are planning a once in a lifetime land/cruise to Alaska this coming year. As a photographer I will be taking my Canon 6D with one lens and a couple of batteries and charger and several SD cards.
Question is, is there a device that I could back the SD cards up to daily without having to take my tablet PC to connect it? 
I am just afraid one of the cards might fail containing shots I will never get again (which is why I will carry several).  I really don't want to lug the tablet with me if I don't have to.  Thanks in advance.
Rick's answer:  That's going to be a fantastic trip, Kim. I hope you have the time of your life!
To answer your question, I don't know of a device that will allow you to directly back up your SD cards to a hard drive or SSD, but there are plenty that will clone your SD card to another SD card.
Of course that means you'll need to carry a few extra SD cards to use as the backup media, but it's a surefire way to create the backups you'll need in order to prevent a lost or defective SD card from causing the loss of your photos.
I did a quick check on Amazon and found several SD cloning devices to choose from.
I haven't personally used any of these devices myself, but based on the description and user reviews I believe this one would be a great choice. Check it and see if it's what you're looking for.
I hope this helps, Kim. Best of luck on your once in a lifetime trip!
---