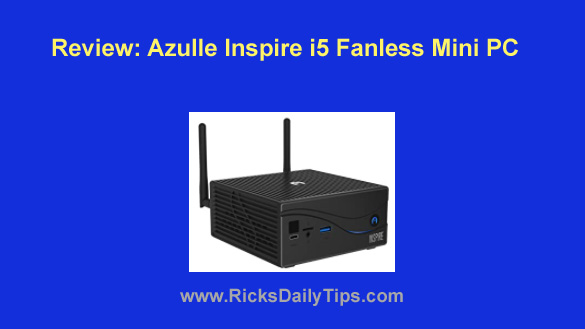 Note: The links in this post are affiliate links.
As you probably know, every generation of technological innovations packs more power into ever smaller packages.
One prime example is the wide array of mini-PCs that recently began to flood the computer market.
I love testing and reviewing these machines so I was pleased when I recently received an Azulle Inspire i5 Fanless Mini PC for review.
After all was said and done I came away quite impressed.
Azulle is a company that specializes in mini-PCs, and they really do a great job at producing ultra-compact machines that pack a lot more power than one would expect them to pack.
Even though the Inspire i5 is roughly the size of a cigar box, the unit they sent me has all of the following inside:
Dual-Core Intel Kaby Lake i5-7200U CPU
16GB DDR 4 RAM (expandable to 32GB)
256GB M.2 SATA SSD
Intel HD Graphics 620
Intel Dual-Band AC Class WiFi
One 1 Gigabit Wired Ethernet Port
Bluetooth 4.0
Three Type-A USB 3.0 Ports
One USB-C Port
As you can see, this machine is "mini" in size only, not in computing power.
Note: The Azulle Inspire mini-PCs are typically sold in a "bare-bones" configuration. That means you'll need to add your own monitor, keyboard, mouse, RAM and SSD storage device.
You'll also need to install an operating system of your choice (either Windows 10 or Linux).
The unit I received for review had 16GB of RAM and a 256GB SSD included in the package.
When I first unboxed this PC I was immediately struck by how small it is. Like I said earlier, it's roughly the size of a standard cigar box.
Here's a larger view of this PC: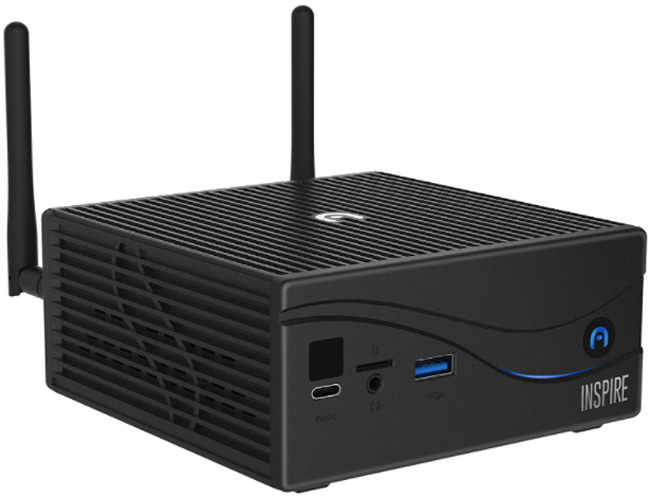 Believe it or not, although the machine itself is a just tad bit larger, this photo is pretty close to actual size (if you're viewing it on a PC)!
The first thing I did was remove the case cover and install the RAM and SSD, both of which were extremely easy to install thanks to the handy instructional videos in the Support section of the Azulle website.
Next, I visited this page on the Microsoft website and used the Windows Media Creation Tool to create a Windows 10 installation USB drive.
After I had the installation USB drive in hand I used it to install Windows 10 on the Inspire PC.
Thanks to the fast i5 CPU, spacious RAM and SSD drive I was able to install Windows 10 in just a few minutes.
After I finished installing and setting up Windows 10 I shut the machine down and booted it up into Windows to check out the boot time.
Again, I was extremely impressed as the actual boot time to the Windows Desktop easily beat the boot time of my comparably equipped HP work laptop.
I took a few minutes to install a total of six different web browsers, then I loaded several dozen websites simultaneously with up to a dozen open tabs in each browser.
Even with all those browsers and tabs open, the response time of my mouse clicks, keystrokes and program opens were just as fast as they were after loading just the first browser.
I then installed Adobe Photoshop Elements onto the SSD, and with all of those browser tabs still open it only took four seconds to load this behemoth of a program.
I then used Photoshop Elements to edit three rather large image files. Again, the response I received from my mouse clicks, drags and keystrokes was more than acceptable.
The last test I performed was installing and using every module of Libre Office, and again the machine "passed" with flying colors.
The one thing I noticed that did concern me was how hot the case of the machine got with all of the above programs and tabs loaded and in use.
But although it concerned me, it didn't surprise me. After all, this is a fanless PC that's cooled entirely by heat sinks.
Just keep in mind that for testing purposes I loaded everything but the kitchen sink into RAM all at the same time, so it's certainly understandable that it would get hot.
But that was my point. I wanted to tax this machine to the max to see how it stands up under incredible load. Needless to say, it did quite well.
I spent the next several days using the machine for my regular daily tasks and it stayed quite cool to the touch throughout.
I must mention that I didn't try running any resource intensive games on this machine because it isn't intended to be a gaming PC. It was actually designed to be a business and general purpose machine.
But that said, based upon the way it responded under load I believe the Inspire i5 should be able to handle some moderate gaming with no trouble.
Bottom line: I came away extremely impressed with the power and speed packed into such a tiny desktop PC.
Truth be told, I was blown away. And that's no exaggeration.
If you're looking for a Windows or Linux desktop computer that takes up as little space as possible while still providing all the power you would expect from a modern mid-range desktop computer, I believe the Azulle Inspire i5 Fanless Mini PC deserves serious consideration.
---
Never miss a tip!  Click here to sign up for my free Daily Tech Tips Email Newsletter!