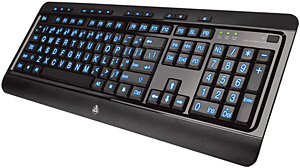 Note: The links in this post are affiliate links.
If you're like me and your eyesight isn't as good as it used to be, you might be interested in hearing about a large print backlit keyboard that I recently received for review.
It's the Azio Large Print Tri-Color Backlit Wired Keyboard, and I really like it.
This wired USB keyboard has over-sized, backlit letters that are extremely easy to see, even when you're sitting in total darkness. That makes it great for night owls who enjoy using their computer while their significant other sleeps nearby in a darkened bedroom.
Since it's currently selling for around $30 on Amazon, I didn't know what to expect from this keyboard in terms of quality, but after plugging it in and trying it out, I can tell you that it seems to be well-built.
This keyboard is heavier than the typical modern computer keyboard, and I like that because the extra weight helps keep it from sliding around while I'm typing. I'm guessing the added weight is due to the extra components that perform the backlighting.
There's a button located on the upper right-hand corner of the keyboard that, when pressed, changes the backlight color from blue to red to purple each time you press it. After trying all three colors, I decided to leave it set to purple because that color seems to provide the most contrast.
Pressing and holding the color change button for three seconds turns off the backlighting altogether. Pressing the same button again turns the backlighting back on.
In addition to the oversized backit keys (which I love!), there is also a row of "Hotkey" buttons above the function keys that perform a variety of functions.
After using this keyboard for a while, I have found that the only Hotkey buttons I use on a regular basis are the ones that raise and lower the speaker volume, open the 'My Computer' dialog, and take me to my brower's home page. I'm sure plenty of other folks will find the remaining buttons useful as well however.
Check out this larger view of the Azio Large Print Backlit Keyboard: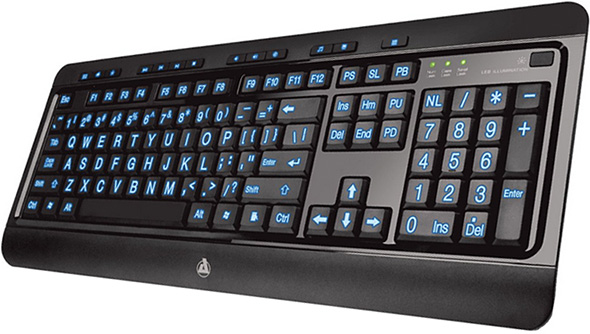 One thing that I really should mention is this isn't a silent keyboard. The keys make a definite clicking sound when pressed.
This clicking sound is no louder than the clicks you hear with most regular keyboards, but if you plan to use it while someone else is trying to sleep, the slight noise could be a problem if that person happens to be a very light sleeper.
Bottom line: Overall, I really like this keyboard. I do enjoy working with the light in my office turned off on occasion, and the large, backlit keys make it extremely easy and comfortable to do so. In my opinion, this is a great keyboard for the money.
Click here to read more about the Azio Large Print Tri-Color Backlit Wired Keyboard at Amazon, including over 4,000 overwhelmingly positive user reviews.
Note: The prices on Amazon change frequently so any prices/savings listed in this post might not be accurate by the time you read this.
Bonus tip: Want to make sure you never miss one of my tips? It's easy! Just…
Click here to sign up for my free Rick's Daily Tips Email Newsletter!
---
Would you like to ask Rick a tech question? If so, click here and send it in!
If you found this post useful, would you mind helping me out by sharing it? Just click one of the handy social media sharing buttons below. Thanks a bunch!