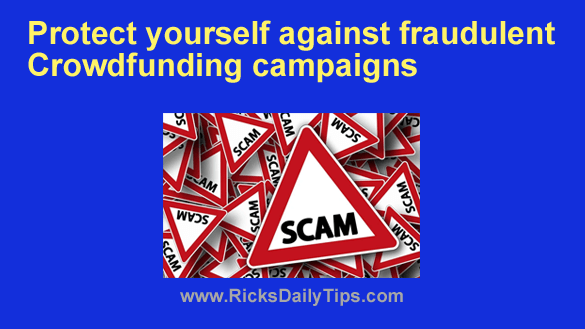 Crowdfunding has been around for a while now, and truth be told, they have been really helped a lot of people out of some really unfortunate jams and done lots of good for the world in other ways.
Sites like Kickstarter, IndieGogo, GoFundMe, Fundly and others have helped bring numerous innovative new products to market and allowed families in need to raise much needed cash for critical surgeries, emergency housing after devastating fires and countless other legitimate needs.
But unfortunately the emergence of crowdfunding has also made it much easier for scammers to take advantage of kind-hearted and generous people on a massive scale. 
In fact, some dishonest crowdfunding campaigns have resulted in thousands of donors being scammed out of hundreds of thousands of dollars via a single campaign, within very short periods of time.
Before I continue, please understand that I'm not trying to dissuade you from donating to worthy causes via crowdfunding campaigns. Far from it.
As I said above, numerous people and families in genuine need have been helped via crowdfunding, and that's sure to continue in the future.
All I'm saying is it pays to be careful and do a bit of due diligence before taking the plunge and making a donation to an organization or person you have never heard of before.
Here are a few tips that can help ensure that all of your crowdfunding donations go to people and organizations that truly need and deserve them:
1 – If you see an appeal for donations from someone you have never heard of before, do a little research into their story to see if it's actually true.
For example, if the campaign is for a child that needs a life-saving surgery there will likely be local or even national news reports about their situation. Type the person's name into Google News and see if anything pops up.
If you're unable to find any news reports about the situation in question try checking social media to see if you can find any information about the person or organization.
While you should always take everything you see on social media with several grains of salt, a person's Timeline and the Timelines of their friends, family members and acquaintances can often provide valuable clues as to the veracity of their story.
2 – If it's a company or organization that's running a campaign check them out with the Better Business Bureau, Charity Navigator, Give.org and Consumer Reports to see what kind of reputation they have earned in the past.
Also do these same checks if you're considering donating to help finance the launch of a new company or a new product by an existing company.
3 – Make sure you understand exactly what the funds generated by the campaign will be used for.
Even legitimate campaigns by people, companies and organizations you trust could well be for a purpose or need that would be better filled by a different entity, in which your charity dollars would be better spent by donating to the other entity instead of the one running the campaign.
What's more, some legitimate companies and people you trust could be planning to use the donations received via a campaign to further a cause and/or produce a product or service that might not align with your world view and/or religious beliefs.
That doesn't necessarily mean that purpose is inherently bad, only that you would never choose to help finance it with your own hard-earned money.
Bottom line: While crowdfunding has enormous potential to help people in need and make the world a better place, it also has an equally enormous potential for helping scammers quickly collect boatloads of undeserved cash.
To paraphrase a popular saying, "Donor beware!"
---