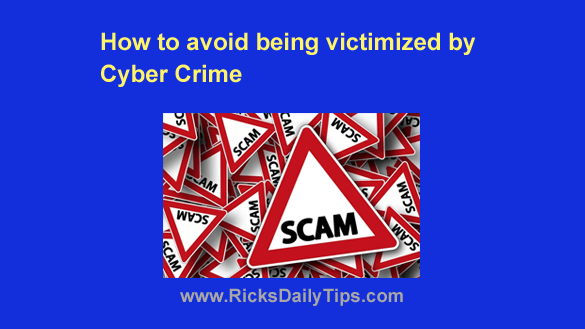 By now you probably know how terrifying it can be to have your online accounts hacked.
Did you know that many of the victims of cyber attacks are unable to get justice or even get their lives back on track after being victimized?
Unfortunately, online criminals don't care who their victims are. They only care about getting your personal information, your account login details and other important information about you that they can exploit for various bad deeds.
For instance, they could potentially steal your sensitive photos, take over your social media accounts and even drain all the cash from your bank accounts.
If a scammer successfully attacks a financial organization, imagine how many people could fall victim to cyber crimes.
Most people affected by these scams don't even realize they are being targeted until it's too late to prevent it from happening.
In fact, most people only become aware of an attack after they discover that money has been stolen from their back account or they are unable to log in to their social media accounts.
So how do you avoid becoming another victim?
The first thing you need to do is learn how to spot and avoid phishing attacks. The post at that link goes into that topic in some detail, but I'll summarize the key points here.
1 – Never open unsolicited emails
Every once in a while you'll receive an email that appears to be from someone you know or a company you do business with.
The problem is many of those emails weren't actually sent from the person or company listed in the "From" field.
The good news is these fraudulent emails usually contain several clues indicating that they aren't legit. Take a look at this email that appears to have been sent by PayPal: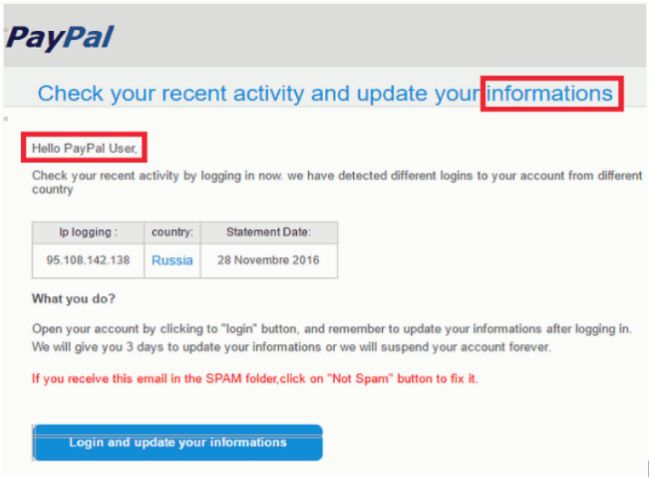 If you carefully read the message you'll notice spelling and grammar errors that would never be included in a real message from a company like PayPal.
You'll also notice that the recipient's name wasn't used in the email. It simply refers to a generic "PayPal User". That alone is a dead giveaway that this email is a fake.
Again, this post has several tips for spotting (and avoiding) fraudulent emails. I strongly recommend that you take a few moments to read it.
2 – Make sure you never download suspicious programs or apps
Scammers also use what appear to be legitimate computer programs and mobile apps to steal your information and trick you into installing malware on your machine.
Be very careful and thoroughly check out every program or app before clicking the "Download" or "Install" button.
3 – Be very careful about handing over your sensitive information online
While an attack may not happen in real time, any information that you provide to a scammer can be used at some point in the future to steal your identity and your money or to access to your online accounts.
As a general rule, you should never supply any information that isn't absolutely needed in order to complete a transaction or the current task at hand.
And before you hand over any info at all, make absolutely sure that the entity you're dealing with is legitimate and not some scammer who is pretending to be someone else.
4 – Never allow your web browser to store your password!
For the sake of convenience, lots of folks allow their browser to store the login information for the accounts they access online. This is a huge mistake.
If you're ever tempted to click "Yes" in response to the "Save my password?" prompt, pause for a moment and think about what could happen if your stored passwords ever become compromised. Just don't do it!
If you already have some passwords being stored by your browser you can remove them by following the directions in this post.
Bottom line: The dangers of cyber crime seem to lurk around virtually every corner of the Internet these days, but the simple tips mentioned above can help you greatly reduce the risks you face whenever you are online.
---