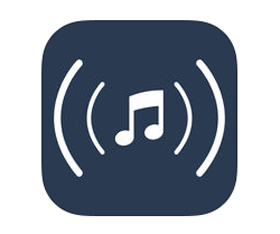 You probably know that you can share the music you're listening to on your iPhone with others by pairing your phone with a Bluetooth speaker (#ad), but what if not everyone in the room wants to hear it?
Well, there's a simple solution that will let other iPhone users listen to your music right along with you on their own phones. It's a free iOS app called Audibly, and works quite well.
Audibly works by streaming the music you're listening to over Wi-Fi to other Audibly users' iOS devices. Everyone who wants to listen in just needs to install the app. 
What's more, you and your fellow listeners won't even need to be connected to a Wi-Fi network for Audibly to work its magic. Your phone will stream your music directly to the other devices via peer-to-peer Wi-Fi connections. Of course the phones must support peer-to-peer Wi-Fi, but most newer iOS devices do.
The Audibly app offers several nice features that I won't go into here, but you can read all about them on the app's iTunes page.
Bonus tip: Audibly makes it easy for your kids to share their playlists with each other in the car on long trips without you having to listen to their music along with them!
Sound good? Check Audibly out for yourself and give it a try!
Bonus tip #1: This post explains how to back up your iPhone to iCloud.
Bonus tip #2: Want to make sure you never miss one of my tips? Click here to join my Rick's Tech Tips Facebook Group.
Not into Facebook? Then click here to join my LinkedIn Tech Tips Group instead!
---
Want to ask Rick a tech question? Click here and send it in!
If you found this post useful, would you mind helping me out by sharing it? Just click one of the handy social media sharing buttons below.