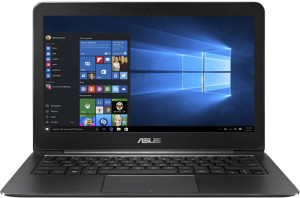 Laptops are getting thinner and lighter all the time, and that's a great thing. After all, when it comes to portability, smaller and lighter is always better.
That being said, PC manufacturers face a real challenge when trying to find ways to keep reducing their latest laptops' size and weight without drastically sacrificing features, performance and durability.
With their fantastic Zenbook line, ASUS seems to be meeting that challenge better and better with every new laptop they design. 
The ASUS ZenBook Flip UX360CA-DBM2T 13.3″ Touchscreen Laptop (#ad) is only 1/2 inch thick and weighs just 2.6 pounds, yet its beautiful but tough aluminum case is packed with plenty of horsepower for a laptop in its size and price range.
This Zenbook comes loaded with a beautiful 13.3-Inch touchscreen IPS FHD (1920 x 1080) display, a 6th Gen Intel Core M 6Y30 CPU, 8GB of DDR3 RAM and a 512GB Solid State Drive (SSD). It also comes with all the following:
Intel HD Graphics
1 micro-HDMI Port
802.11ac Wi-Fi
HD Webcam
Bang and Olufsen ICEpower Audio
1 USB 3.1 Gen1 Type-C Port
2 USB 3.0 Ports
Bluetooth 4.1
Full-Size Ergonomic Chiclet Keyboard
Large Responsive Touchpad
Up to 10 Hour Battery Life
Windows 10 / 64 bit
1 Year Limited Warranty
As you can see, there is plenty to like about this ultrabook. And on top of the awesome specs, it just looks great!
The keyboard and touchpad on this machine are among the best I have ever found on an ultrabook, and the screen is sharp and crystal-clear. In short, this little gem from ASUS is a joy to use.
As with other ultrabooks, this one doesn't come with an optical drive. If you need one you can always add an inexpensive external USB optical drive
(#ad) for as little as $15.
Bottom line: Thanks to its fast processor, spacious RAM and Solid State Drive, this beautiful machine from ASUS performs extremely well when compared to other ultrabooks in its price range.
If you want a great combination of portability, durability, and speed at the best possible price, in my opinion this awesome Zenbook is worthy of strong consideration.
Click here (#ad) to read more about the ASUS ZenBook Flip UX360CA-DBM2T 13.3″ Touchscreen Laptop at Amazon.
---
If you think your friends would like this post, I'd love you to share it! Thanks a bunch!