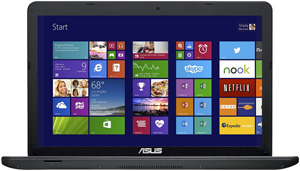 The low-cost Windows laptops just keep on coming, and in my opinion that's a great thing for all the consumers who want to buy a full-blown Windows laptop without spending a ton of cash.
I believe the ASUS 15.6″ Intel Dual Core Celeron 2.16 Ghz Laptop (#ad) is a good choice for anyone who doesn't plan to edit video or do any hardcore Photoshop work.
This machine won't win any awards for blazing speed and it doesn't come with a ton of storage options, but it does an outstanding job at most any web-based task such as checking email, watching Youtube videos, surfing the Internet, and using Facebook, Twitter and other social media websites.
Here is a quick run-down of the specs: 
15.6 Inch HD Color Display
HDMI and VGA Video Ports
Intel Dual Core Celeron 2.16 GHz Processor (turbo to 2.41 GHz)
4 GB RAM
500 GB Hard Drive
802.11n Wireless Networking
Built-in Webcam
1 USB 3.0 Port
1 USB 2.0 Port
SDXC Card Reader
Windows 8.1
1 Year Limited Warranty
1 Year Accidental Damage Protection
As with most newer laptops, this one doesn't come with an optical drive, but you can easily add an external USB optical drive
. (#ad)
Depending on your computing habits, you can expect up to 5 hours of battery life from this laptop, which is pretty good for a machine at this price. And at 4.7 pounds, the weight is reasonable as well.
With only two USB ports, connectivity is a bit limited so you might want to pick up an inexpensive USB 3.0 hub
(#ad) to use with this laptop if you plan to use it in a stationary environment on a regular basis.
Bottom line: If you're looking for a heavy-duty production machine for use with Photoshop or any video editing software, you'll likely be better off with a more powerful (and more expensive) laptop.
But if you just need a good PC for Internet use, running Microsoft Office, or most any every-day computing task, this laptop should serve you well.
Click here (#ad) to read more about the ASUS 15.6″ Intel Dual Core Celeron 2.16 Ghz Laptop at Amazon