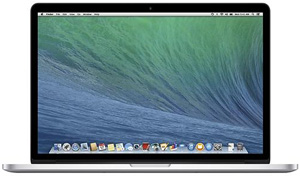 Apple products have long been considered by many to be the "cream of the crop" in the tech world. In fact, in their eyes the Apple brand is almost synonymous with perfection.
While that opinion is certainly debatable, I would say that it comes pretty close to the mark in the case of Apple's latest MacBook Pro.
The MacBook Pro MJLQ2LL/A 15.4-Inch Laptop with Retina Display is a perfect combination of style, power and reliability. 
Take one look at its beautiful "better than HD" IPS Retina display and experience the raw power of its 2.2 GHz Quad-Core Intel Core i7 CPU coupled with 16GB 1600 MHz DDR3L RAM and 256GB of PCIe-based Flash Storage, and you'll likely be hooked.
MacBooks are known for their rock-solid stability and unparalleled ease of use, and this one is no exception. Here is a partial list of the most important specs:
15.4-inch (2880×1800) IPS Retina Display
Iris Pro plus NVIDIA GeForce GT 750M graphics with 2GB video memory
1 HDMI port for connecting an external display
2.2 GHz Quad-Core Intel Core i7 Processor (Turbo Boost up to 3.4 GHz, 6 MB shared L3 cache)
16GB 1600 MHz DDR3L RAM
256GB PCIe-based Flash Storage (faster than a traditional SATA III Solid State Drive)
2 USB 3.0 Ports
Two high-performance Thunderbolt 2 ports
802.11ac Wi-Fi
Bluetooth
Backlit keyboard
8 hour Lithium Polymer (LiPo) battery
Mac OS X 10.9 Mavericks Operating System (upgradable to the new OS X Yosemite once it is released)
1 year limited warranty
As you can see, this is one powerful laptop! And since it's a MacBook Pro, you know its built to be reliable and easy to use.
One item that's missing in this otherwise awesome laptop is an optical drive. But those are becoming increasingly rare in newer laptop models (for good reason). If you still need one, you can always plug in an inexpensive USB optical drive (#ad) on those rare occasions when you need to install a software program or listen to a CD.
Bottom line: Whether you're looking to upgrade from an older Mac, switch from Windows to the world of Apple or simply buy your first high-end computer, this edition of the MacBook Pro would be an awesome choice.
---
Like this post? If so, I invite you to share it on social media. Just click one the handy buttons below.