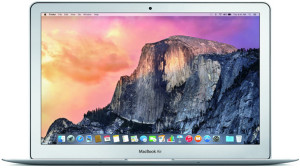 Apple's MacBook line of laptops has long been regarded as among the best in the industry, for good reason. Without exception, every MacBook ever built was created with the best in quality, simplicity and ease of use in mind.
The Apple MacBook Air MJVE2LL/A 13.3-Inch Laptop continues to live up to the MacBook's sterling reputation. Although it has a larger screen, this attractive and durable laptop is still super-light and just as dependable as its predecessor.
It's also quite powerful as laptops go, offering some pretty awesome features and hardware, as listed below: 
13.3-inch LED-backlit glossy widescreen display (1440 x 900px)
Integrated Intel HD Graphics 5000
1.6 GHz dual-core Intel Core i5 CPU
4 GB of 1600 MHz LPDDR3 RAM
128 GB Solid State Drive (SSD)
Ultrafast 802.11ac Wi-Fi
Bluetooth 4.0
One high-speed Thunderbolt port
Two high-speed USB 3.0 ports
One SDXC flash memory card slot
HD 720p FaceTime camera
Up to 12 hours of battery life
Weighs just 3 pounds
OS X Yosemite operating system
The MacBook Air MJVE2LL/A is light, super-fast and easy to use most anywhere that you might need it. The display is bright and clear. The keyboard is responsive and feels good to the touch. And as with all MacBooks, the touchpad is just about the best you're likely to find on any laptop, period.
The only thing that's really lacking in this machine is a touch screen, but since it's a laptop instead of a tablet I don't see this as much of an issue at all.
Every time I review one of these ultra-portable laptops, I feel that I have an obligation to point out that they don't come with a built-in optical drive. But if you really need one, you can pick up an external USB optical drive
starting at around $15.
Bottom line: The MacBook Air MJVE2LL/A is a joy to use thanks to its exquisite combination of style, power, portability and speed. If you're looking for a small, yet extremely capable laptop for either business or personal use, this little gem from Apple is well worth strong consideration in my opinion.
Click here to read more about the Apple MacBook Air MJVE2LL/A 13.3-Inch Laptop at Amazon, including well over 200 overwhelmingly positive user reviews.
Note: The links in this post are affiliate links.