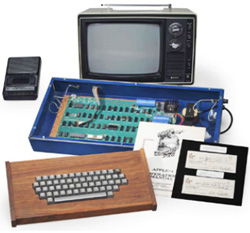 Steve Jobs and Steve Wozniak started Apple Computer Corporation on a shoestring back in the 1970's with Wozniak hand-building approximately 200 Apple 1 computers, which Jobs then sold for a then-hefty $667 each.
According to the Apple 1 Registry, only 63 of those hand-built Apple 1's are known to still be in existence. One of them just sold at auction for a whopping $365,000!
This particular machine is the last one known to be hand-built by Wozniak and then sold by Jobs. It's amazing what a little nostalgia and rarity can do to an item's price tag.