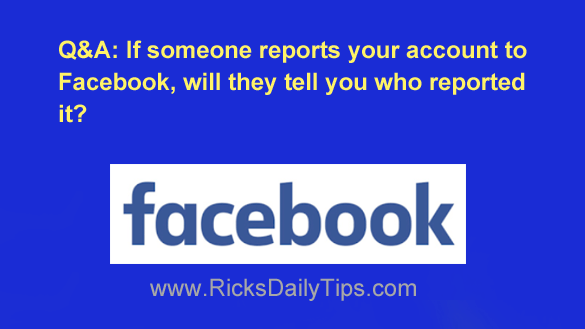 Like my tips?  Click here to sign up for my free Daily Tech Tips Newsletter and you'll never miss one!
---
Question from Vicki U.: Hi Rick, I have a question re: Facebook Reporting.
I was wondering if you could clear up a big disagreement between two of my friends?
One of them believes if your account is reported by another user Facebook tell you who reported you? The other one disagrees.
Personally, I don't believe they will because I've reported lots of people and no one has ever complained to me about it.
Can you clear this up once and for all?
Rick's answer: There really isn't a lot of clearing up to do, Vicki.
Facebook is very clear about all reports being and remaining anonymous. Here is an excerpt from their help page on this very topic:
"When something gets reported to Facebook, we'll review it and remove anything that doesn't follow the Facebook Community Standards. Your name and other personal information will be kept completely confidential if we reach out to the person responsible."
I don't see how it can be any more clear than that.
Here's a link to the page in question:
https://www.facebook.com/help/103796063044734
I recommend that you send that link to both of your friends so they can stop arguing (and putting you in the middle of it).
I hope this helps Vicki. Good luck!
Bonus tip: This post explains how to prevent your Facebook account from getting hacked.
---
Cick here to ask me a tech question.