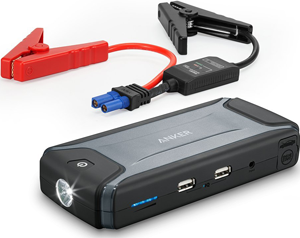 Are you racking your brain trying to think of the perfect gift for someone you love? If so, I have a suggestion for you:
Why not give them a portable jump starter for their vehicle?
If you've ever been stranded on the side of road with a dead battery, you know how frustrating it can be having to wait for an expensive tow-truck to come and jump start your vehicle.
Even worse, if it happens after dark it can even be down-right frightening! 
Well, that doesn't have to happen anymore because of the amazing portable jump starters that are selling like hotcakes these days. They're small and easy to store in the glove compartment, yet plenty powerful enough to provide multiple jump starts on a single charge.
I've tested several of these devices, and the one I like most is the Anker Compact Car Jump Starter and Portable Charger Power Bank.
Don't let the name fool you. The word "compact" refers to the device, not the size of the vehicles it was made to work with. This nifty jewel will jump start most any car or pickup truck, with plenty of juice left over to boost off several more!
In addition to jump-starting a car, this awesome device will also charge up your loved one's mobile devices. All they have to is plug them in using the included microUSB charging cable.
The jump starter's battery itself is very easy to charge up. Simply plug it in to either the included car charger or wall charger.
Here's a photo that shows everything that comes in the package: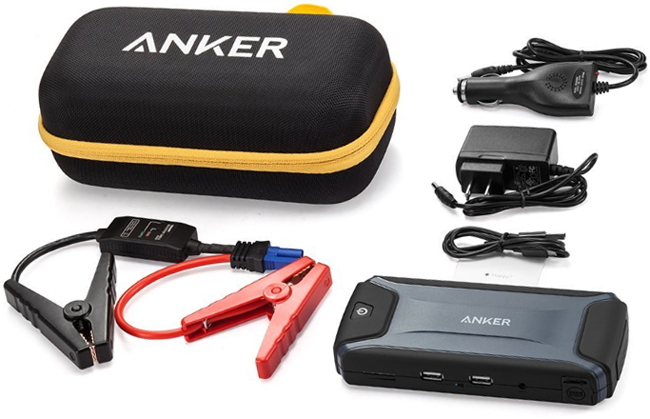 Regular readers of this blog know that Anker is one of my favorite brands due to their products' high quality and excellent value. And this awesome jump starter is no different.
In fact, it has received hundreds of overwhelmingly positive user reviews on Amazon, and my own experience with it compels me to agree with them.
Bottom line: There is no greater gift these days than the gift of security. Give the people you love one of these awesome portable jump starters for the ultimate gift!
Click here to read more about the Anker Compact Car Jump Starter and Portable Charger Power Bank on Amazon.
Note: The links in this post are affiliate links.