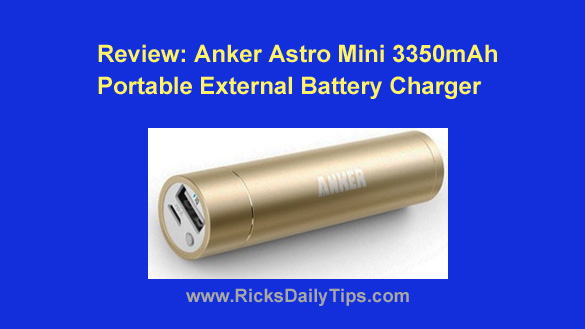 Note: The links in this post are affiliate links.
One of the biggest challenges we have when it comes to using your mobile devices is keeping them charged up and ready for use when you need them.
Sure, you can always plug them in and top off their batteries when you're are at home, at the office, or in your car, but what if you're in a place where there's no electrical outlet for an extended period of time?
In all likelihood, the battery is going to die before you can get to a place where you can plug it in and charge it.
I've written several posts explaining how to maximize the battery life of our mobile devices, but the simplest method I know of is to keep a cordless external battery charging device on hand. 
These devices vary in size, weight and charging capacity, but one of the best that I have found is compact and light enough to carry around in your pocket, yet powerful enough to quickly and fully charge most any smart phone when using a traditional charger isn't an option.
It's the Anker Astro Mini 3350mAh Portable External Battery Charger, and it works as well many other portable chargers that are bulkier, and more expensive.
This little gem is about the size and shape of a slightly over-sized lipstick tube, yet it provides a hefty 3350mAH of charging current to your device's USB charging port.
And it's very easy to use. Simply plug the Astro Mini into any standard USB wall charger, car charger or computer USB port. The unit will automatically begin charging and a yellow light will come on. When the yellow light turns off you'll know the battery is fully charged.
Using the Astro Mini to charge your mobile device is even easier. Just plug the device into the external charger and press the charger's power button. Charging will begin immediately. When your device indicates that charging is complete, unplug it from the charger. It's really that simple.
Bottom line: You can buy external battery chargers that are larger and more expensive than this Anker Astro Mini, but I don't think you'll find one that's more dependable or easier to use.
Click here to read more about the Anker Astro Mini 3350mAh Portable External Battery Charger at Amazon, including thousands of overwhelmingly positive user reviews.
Bonus tip: Want to make sure you never miss one of my tips? It's easy! Just…
Click here to sign up for my free Rick's Daily Tips Email Newsletter!
---
Would you like to ask Rick a tech question? If so, click here and send it in!
If you found this post useful, would you mind helping me out by sharing it? Just click one of the handy social media sharing buttons below. Thanks a bunch!