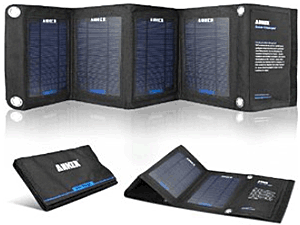 Hiking, camping, and just enjoying the great outdoors are wonderful ways to get back to nature for a while, but if you need to keep your mobile phone, tablet or GPS charged up while you're out there, good luck!
But now our friends at Amazon have an awesome new device that makes it easy to keep your mobile devices charged up while you're out someplace in the boonies.
The Anker 14W Solar Panel Foldable Dual-port Solar Charger provides up to 5v at 2 amps to your USB charged mobile devices. This is plenty of power to keep your batteries "hot" and ready for use whenever you need them. 
This powerful solar charger folds up to about the size of a sheet of paper when not in use, and at just 1.5 pounds it won't add much noticeable weight to your backpack. A series of strategically-placed "eyeholes" allow you to easily attach it to the outside of your pack, to a tree, or to most any other object you can find in order to gather the sunlight required to charge your devices.
The 5 volts at 2 amps mentioned above are only possible while in direct sunlight (it is a solar charger after all), but even when the lighting conditions are less than optimal the device will still supply some juice for charging up to two USB powered devices at once.
Anker has earned a well-deserved reputation for building high-quality electronic items and selling them at great prices, and this powerful solar charger is no exception. And as you might expect, they stand behind it with an 18 month warranty.
And by the way, this charger isn't just useful while you're out enjoying the great outdoors. It also lets you keep your mobile devices charged during extended power outages!