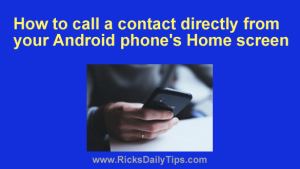 To make a call on your Android phone, you probably open the Phone app, tap Contacts, select the person you wish to call from a long list of contacts, and initiate the call by tapping the Call button.
Well here's a little tip that can speed the process of calling someone up for you… 
If you tend to call just a few people on a regular basis, you can quickly set up shortcuts that will let you call them right from the Home screen with just two quick taps.
It's a very simple process to create Home screen shortcuts for your most frequently called contact(s). Here's how to quickly set it up:
1 – Open the app drawer by swiping up from the bottom of the Home screen.
2 – Tap Contacts.
3 – Tap the name of the person you'd like to create a shortcut for.
4 – Tap the three dots in the top-right corner of the screen and select Add to Home screen from the menu.
5 – Tap and hold the contact's avatar photo and drag it to the place where you want it on the Home screen.
6 – Repeat the steps above for each of the other contacts you'd like to create a shortcut for.
That's all there is to it. From now on you can call any contact that you added to the Home screen simply by tapping on their avatar photo and then tapping Call.
One note of caution: Since these shortcuts are located right on the Home screen, it's very easy to call folks by accident. Tap with care!
---