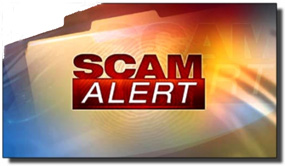 As you probably know, Facebook scams and hoaxes take many forms.
Whether they show up in your newsfeed or arrive in your Messenger inbox, the results are always the same…
Lots of folks either get scammed or they become very irritated due to the deluge of fraudulent messages they receive.
The latest hoax to come to my attention is being spread primarily via Facebook Messenger.
It's a variation of the "Don't accept a friend request from XXXXXX because he/she is a hacker" scam that's taken on so many forms over the years.
This time the supposed hacker is named Andrea Wilson. The hoax message reads something like this:
"Be careful: I got a message from you or it shown on your wall here.. Please tell all the contacts in your messenger list not to accept friendship request from Andrea Wilson. She is a hacker and has the system connected to your Facebook account. If one of your contacts accepts it, you will also be hacked, so make sure that all your friends know it. Thanks. Forwarded as received. Hold your finger down on the message. At the bottom in the middle it will say forward. Hit that then click on the names of those in your list and it will send to them THIS Is REAL."
Of course everything in this message is fraudulent…
First of all, the sender never received the message from you or saw it on your "wall". If they had there would be no reason to send it right back to you!
Second, there is no Andrea Wilson.
Well, that isn't really true because a search for "Andrea Wilson" will return dozens of profiles for people of that name just like a search for "John Smith" will return lots of guys by that name.
But in the context of this hoax, the "Andrea Wilson" who is supposedly a hacker doesn't exist.
Third, Just accepting someone's friend request cannot cause your account to get hacked. Facebook just doesn't work that way.
And finally, the statement "THIS is REAL" is an obvious lie.
Luckily, this hoax is more or less harmless other than it's extreme nuisance factor.
You don't have to worry about it downloading a virus to your machine or your Facebook account getting hacked by it.
But that being said, it's a major hassle for your friends when they receive dozens of these forwarded messages in their Messenger inboxes.
As I explained in this post, every newsfeed post or instant message that instructs you to forward it to everyone on your contacts list or friends list is a hoax. And there are no exceptions.
Bottom line: If you receive this hoax message about Andrea Wilson being a hacker you can simply delete it and forget about it.
You don't need to change your Facebook password and you don't need to run a malware scan on your computer or mobile device.
Bonus tip #1: Click here to read about several other hoaxes and scams that are making the rounds right now.
Bonus tip #2: Want to make sure you never miss one of my tips? It's easy! Just…
Click here to sign up for my free Rick's Daily Tips Email Newsletter!
---
Would you like to ask Rick a tech question? If so, click here and send it in!
If you found this post useful, would you mind helping me out by sharing it? Just click one of the handy social media sharing buttons below. Thanks a bunch!