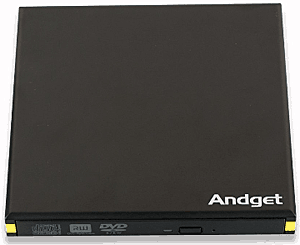 A portable USB DVD burner can come in handy in lots of situations. For example, you might have a PC with a bad optical drive that you need to install a piece of software on. Or perhaps you want to listen to a CD on occasion.
As you know, there are still CDs and DVDs out there, and sometimes we do need to use them. Yes, even in this age of ubiquitous digital downloads, we still need access to a good optical drive from time to time.
That being said, in my opinion a portable DVD drive isn't something that you need to spend a lot of money on. In fact, I believe that $30 or so is plenty. 
I recently received an Andget USB 3.0 External DVD-RW Recorder for review, and all in all I believe it to be a good value. It's also in that magic $30 price range (in fact, it's a little cheaper than that on Amazon).
This drive is compact and attractive. Although it's a little on the light side which makes it "feel cheap", it really isn't made that way. I was actually rather impressed with the smoothness of the slide drawer and the way the drive works in general.
The fast USB 3.0 interface is a true pleasure after using only USB 2.0 external DVD drives in the past. Installing even large software applications with this drive is a snappy process, and backing up files to writable DVD discs is a quick and painless task.
Really, the only downside I can find with this drive is that it doesn't work with Macs. It does work flawlessly with all recent versions of Windows however. And since it comes with a plug-and-play USB 3.0 interface, all you have to do is plug it in and get right to work.
Bottom line: If you're looking for a good, but inexpensive external USB DVD burner, I believe this drive is definitely worthy of your consideration.