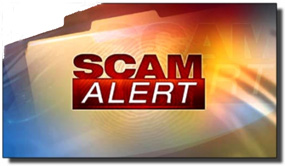 As you probably know by now, Like and Share Farming is a popular method used by scammers to quickly build successful Facebook pages that they can use to scam other Facebook users.
In a nutshell, the scammer uses innocent-looking (and often heart-tugging) posts to attract thousands of "Likes" and "Shares" to a new page to make it "popular" among the Facebook community.
Well, there's a rather insidious form of "Like and Share Farming" taking place right now, and it's targeting Christians.
These posts are simply another variation of the "Feel Good Posts" that I have written about in the past.
The current scam typically works something like this… 
First, a scammer creates a graphic that contains an inspirational quote or bible verse and adds something to the effect of "Type Amen and Share if you agree!". Alternatively, it might simply tell you to say Amen, assuming that you'll like and share the post without being prompted to do so.
The scammers know these types of posts are hard for Christians to resist because they take pains to ensure that the message relayed in the graphic is perfectly aligned with Christian values and doctrine.
This seems innocent enough, but here's the problem: After the post has gained thousands of "Likes"and "Shares", the scammer replaces the Christian-themed graphic with another one that's either hawking some product or spreading malware.
At that point the innocent and uplifting post you "Liked" and "Shared" is now promoting something that quite possibly isn't very innocent and uplifting at all.
And guess what? Since you and a multitude of other Facebook users typed "Amen" on the post, it appears that you approve of whatever it is being hawked and you are actively helping to promote it!
Bottom line: As hard as it is to resist these types of posts, it's very important to do so. If you don't, you could possibly end up helping a scammer spread malware or steal someone's money or identity.
PS. This post isn't meant to be judgmental in any way, just informative.
Also, it's perfectly fine to "Like" and "Share" inspirational posts that were thought up and actually typed out by your friends. It's the cookie-cutter images and "Copy and Paste" text posts that were obviously forwarded from someone you don't know that post the real danger.
I have fallen for scams like this myself in the past, and I'll readily admit that I'm still tempted to fall for them now because some of the messages are so clearly uplifting.
I just try to keep in mind that I'm not Nike and tell myself "Just don't do it!".
Bonus tip: Click here to read about some other dangerous scams that are making the rounds right now.
---
If you think your friends would like this post, I'd love you to share it! Thanks a bunch!