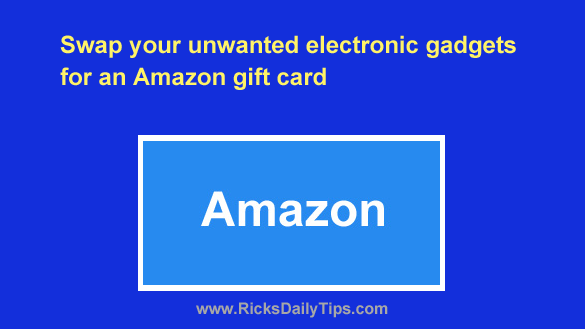 Note: The links in this post are affiliate links.
If you're like most people you could probably use a little extra money every now and then to buy someone a gift or something that you need yourself.
Well, Amazon offers an easy way to turn your unwanted electronic items into extra cash (in the form of a gift card) that you can spend for absolutely anything that Amazon sells. 
It called the Amazon Trade-In Program, and it's great!
You can easily trade-in your old iPhones, iPads, Android devices, GPS units, music CDs, video games, DVDs, laptops and many other types of electronic items and receive an Amazon gift card in exchange.
And I'm not talking chump-change either. In fact, depending on the model, your old devices can literally net you hundreds of dollars!
Of course the trade-in values you'll receive will vary by item, but it costs nothing to check the Amazon trade-in page to see what they are potentially worth. This will give you a maximum value for the item. Then you just print off a pre-paid mailing label and mail the item into Amazon.
Upon receipt of the item, Amazon will evaluate its condition and make you a firm offer. And as long as the item works and is in acceptable condition, they WILL make an offer which you are then free to either accept or reject.
If you accept Amazon's offer, they'll deposit the agreed upon amount into your Amazon Gift Card account. You can then immediately spend that money on literally anything that Amazon sells.
If you decide not to accept Amazon's offer for any reason whatsoever, they will ship your item back to you (and they'll even pay the shipping fee). Whether you decide to trade-in your item or not, either way you pay nothing.
And in case you're wondering, the Amazon Trade-In Program isn't limited to electronic items. You can also trade in your pre-read books.
Bottom line: If you could use some extra money, why not trade in your unwanted gear at Amazon? You'll get some extra cash to spend on Amazon and maybe clean out a closet or two in the process.
Click here to see what your unwanted electronic items are worth under Amazon's Trade-In Program.
---