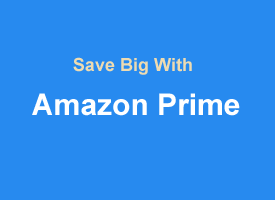 About a year ago Amazon began offering free same-day shipping on eligible items to Amazon Prime (#ad) members who lived in one of fourteen selected U.S. metropolitan areas.
For the lucky folks living in or near those cities, their already awesome Amazon Prime memberships became even more awesome virtually overnight.
Well, Amazon has just announced that they have extended the free same-day shipping perk to Prime members living in twelve additional metro areas.
That brings the total number of U.S. cities covered by the free same-day shipping policy to 27. Here is a list of the lucky locales: 
Atlanta, GA
Baltimore, MD
Boston, MA
Charlotte, NC
Chicago, IL
Cincinatti, OH
Dallas/Fort Worth, TX
Fresno, CA
Indianapolis, IN
Los Angeles, CA
Louisville, KY
Milwaukee, WI
Nashville, TN
(Central) New Jersey
New York, NY
Philadelphia, PA
Phoenix, AZ
Raleigh, NC
Richmond, VA
Sacramento, CA
San Diego, CA
San Francisco Bay Area, CA
Seattle/Tacoma, WA
Stockton, CA
Tampa Bay, FL
Tucson, AZ
Washington, DC
If you live near one of the cities listed above, you can enter your zip code on this page of the Amazon website to see if your address qualifies for free same-day Prime shipping.
Bottom line: Amazon Prime's tons of great perks and freebies make the cost of the yearly membership fee a true bargain, but if you happen to live in one of the areas listed above it's really a no-brainer!
If you aren't already an Amazon Prime member, I recommend that you sign up right now for a free 30-day trial membership.
During your free trial period you'll be able to take advantage of ALL of the perks and freebies that are available to full-blown Amazon Prime members, including the free two-day and same-day shipping perks.