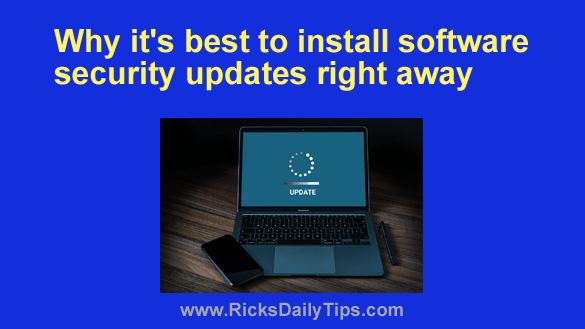 It seems like every time we turn on our computers and mobile devices these days there are updates waiting to be installed.
This seemingly endless stream of updates can be annoying when you're needing to get something done in a hurry, but I strongly recommend installing security updates right away, before you do anything else.
Many people assume that software updates are released primarily to add new features or fix a minor bug or two, but that isn't the case at all.
New software major "feature" versions are indeed released for that purpose, but most updates are actually security and maintenance updates. And trust me, those are the most important updates of all.
While some security and maintenance updates do in fact squash a bug or add a new feature every once in a blue moon, their primary purpose is to patch security holes that hackers can use to break into your computer or other device and send SPAM emails in your name, steal your personal information and bank accounts and perform countless other nefarious deeds.
This is especially true of zero-day security holes that are brought to the manufacturers' attention. Those flaws are always either waiting for hackers to exploit or are already being exploited when the updates are released.
That's why a delay of even a few hours in installing those critical updates can result in a serious hack and/or data breach.
Put another way, waiting even a short while to install an important security update gives crooks a window of opportunity to wreak all kinds of havoc on your personal and financial life.
And while you're at it, don't forget to quickly install updates for your programs and apps as well because security flaws in those types of software can be just as dangerous as flaws in a device's operating system.
And now, one final thought about updates…
The above really only applies to security and maintenance updates, not new major "feature" releases.
Those major updates are released on a somewhat regular schedule to add new features and squash minor bugs. They are not intended to plug dangerous security holes.
Unlike with security and maintenance updates, my recommendation for major new feature updates is to take your time and not be in a big rush to install those.
The reason I say that is those types of updates aren't critical for the proper operation of your devices.
And since they are almost always riddled with bugs when they are first released it's best to give the manufacturers ample time to squash as many bugs as possible before taking the plunge and installing them on your machines.
---