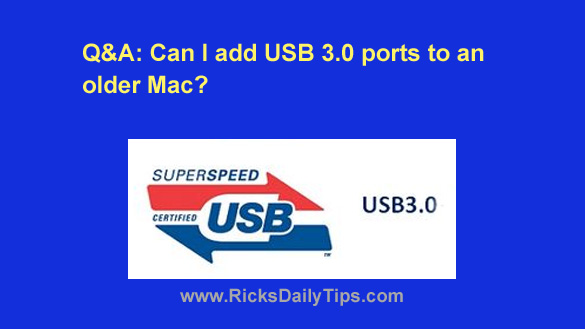 Note: The links in this post are affiliate links.
Question from Shelley:  Hi, Rick. My computer is an older Mac Pro MC560LL/A and it only has USB 2.0 ports. I'd really like to be able to use a USB 3.0 hard drive with this computer.
My question is can I add some USB 3.0 ports to my Mac Pro? 
Rick's answer: Yes, you sure can Shelley, and it's very easy to do. What's more, it won't cost you very much to do it.
All you have to do is purchase a USB 3.0 expansion card and install it in an empty expansion slot. Just make sure you buy a card that's designed to work with a Mac Pro instead of (or in addition to) a Windows PC.
But before we go any further, are you aware that USB 3.0 is backward compatible with USB 2.0?
That means you could always just plug a USB 3.0 external hard drive into one of your machine's USB 2.0 ports if you wanted to and it'll work just fine.
But of course there's a downside to doing that: The drive will transfer data back and forth with the computer at the much slower USB 2.0 speed, essentially negating the advantage of using a fast USB 3.0 drive.
For that reason I recommend going ahead and adding some USB 3.0 ports to your computer as originally planned so you can take advantage of the much faster USB 3.0 speed. I only told you about the backward compatibility because I want you to be aware of all of your options.
I did a little research and discovered that there are several USB 3.0 expansion cards available for Mac Pros. This one from Sonnet Technologies plugs into an empty PCI-E slot and it will add 4 USB 3.0 ports to your older Mac Pro.
As you can see, you should have no trouble at all adding USB 3.0 ports to your Mac Pro, Shelley. Good luck!
---