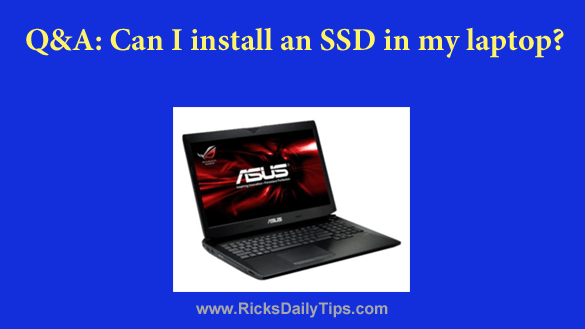 Click here to sign up for my free Rick's Tech Tips Newsletter!
---
Note: The links in this post are affiliate links.
Question from Seth:  Hi Rick. I have an old ASUS ROG G750JW laptop and I'd really like to replace the hard drive with a 1 TB SSD if it's at all possible.
I love this machine and I want to keep using it as long as I can.
My problem is, I know zilch about the technical aspects of computers. I just know how to use them to do the things I need to do.
What I need to know is a) will this laptop take an SSD, and b) if it will, where can I have one installed in Conway, SC?
Rick's answer:  I have great news for your Seth. Your ASUS laptop can easily support an SSD, and installing one should speed it up quite a bit.
If I were you, this is what I would do:
1 – Buy a 1TB SSD (you'll likely save a lot of money by purchasing it yourself). Amazon has a great selection, and they're very competitively priced.
2 – After you receive your new SSD, take it and the laptop to a local computer repair shop that has a good reputation and ask them to install the new drive for you. They'll swap out the drives and transfer your operating system and files to the SSD (at least whatever will fit).
As for the "where" part of your question, I don't really know what's available in your area in regards to computer shops, but I'm sure there must be several within easy driving distance. Just ask around for recommendations.
3 – Purchase an external USB hard drive enclosure and use your old hard drive as an external drive. Amazon has a great selection
of those as well.
I really think you'll find that adding an SSD to your laptop will be more than worth the trouble and expense, Seth.
---
Click here to ask me a tech question.