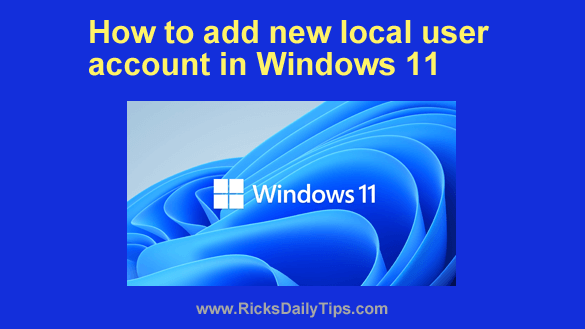 It's no secret that Microsoft wants every Windows 11 user to sign into their PC with a Microsoft account.
In fact, they have even designed Windows 11 in a way that prevents a few of its most useful features from even working if you're signed in with a local account.
But guess what? I don't really like the idea of signing in to my computer with an Internet-based account, for various reasons (privacy and security just to name a couple).
If you feel the same way, I'm here to tell you it's still possible to create new local user accounts and sign into them without entering any Microsoft login credentials. 
And truth be told, it's fairly easy to do although there are several steps required.
Just follow the steps below to create a brand new local user account on your Windows 11 PC:
1 – Click the Start button, then type the words add user.
2 – Select Add, edit or remove other users from the list of search results.
3 – In the right-hand pane, click the Add account button.
4 – On the "How will this person sign in" dialog, click I don't have this person's sign-in information.
5 – On the "Create account" dialog, click Add a user without a Microsoft account.
6 – Now enter a name for the new account and a password, then click Next.
Note: If you don't want to use a password with the new account, simply leave the two Password fields blank.
That's all there is to it. You have just created a new local user account that you can sign into with just a password instead of your Internet-based Microsoft account credentials.
---