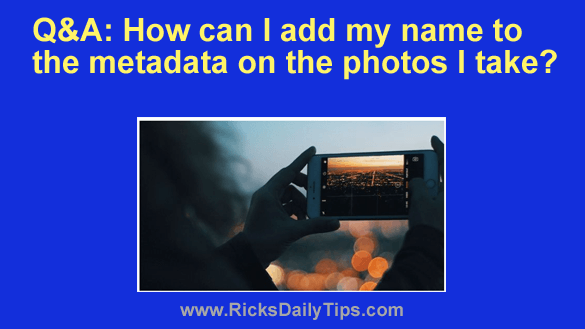 Question from Linda:  I have a quick photography question for you, Rick. I hope you don't mind.
I take lots of pictures with my phone and then transfer them to my computer.
When I right-click on a photo and look at the properties (metadata) it always displays the name of my phone but my name is nowhere on there as the photographer.
I've seen lots of photos other people have taken that have their name in the metadata as the"Author".
How can I add my name to the metadata on the photos I take?
My computer is an ASUS laptop with Windows 10.
Rick's answer:  Linda, you didn't mention anything about editing your photos with Photoshop or some other image editing app, but if you use one there's a great chance that program has a tool for editing a photo's metadata.
Most image editors have that capability nowadays, and if you use such a program you should be able to easily find it in one of the menus. If not, consult the program's user manual or "Help" page to see if it's available to you.
The good news is you can easily add your name to your photos' metadata even if you don't use any image editing software at all. You can do it using Windows itself!
This short video shows how to easily add your name to a photo's metadata using a Windows PC:
Pretty easy, right?
If you prefer following written instructions, here you go:
1 – Right-click on the photo and select Properties.
2 – Click the Details tab.
3 – Click you mouse in the currently blank Value field of the "Authors" line.
Here's a screenshot that shows where you need to click: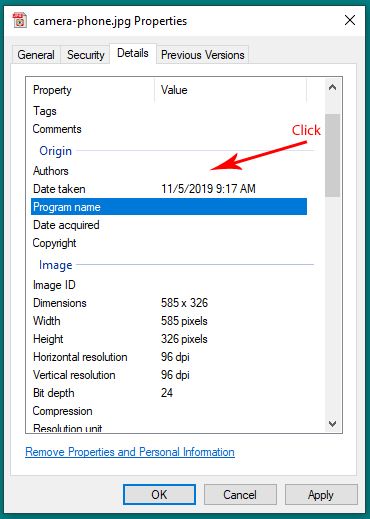 4 – Type your name into the text box, then press the Enter key on your keyboard.
5 – Click the OK button to close the "Properties" dialog.
That's it – you're done!
By the way, you can also edit most of the other metadata entries in the "Properties" box by clicking on its "Value" field the same way you did for the author's name.
One more quick point: You didn't mention your phone's brand or model, but some phones will allow you to change a setting that will automatically insert your name into the metadata of every photo you take.
I recommend that you consult your phone's user manual to see if your phone has that feature.
And now, after having said all of the above, I must mention one very important caveat…
You saw how easy it is to change most of the metadata entries on a photo, including the "Author" name. That means someone else can easily change your name to theirs on a whim by following the same steps you did.
What's more, they could even remove your photo's metadata info completely by clicking the "Remove Properties and Personal Information" link at the bottom of the dialog box.
In other words, you cannot count on adding your name to the metadata to protect your photos from unauthorized use or to prevent an unscrupulous person from claiming your photo(s) as their own. That's where copyright protection comes into play.
I hope this helps, Linda. Good luck!
Bonus tip: Many users have the mistaken belief that uploading their personal photos to Facebook transfers ownership of those photos from the photographer to Facebook. But as I explain in this post, it does not.
---