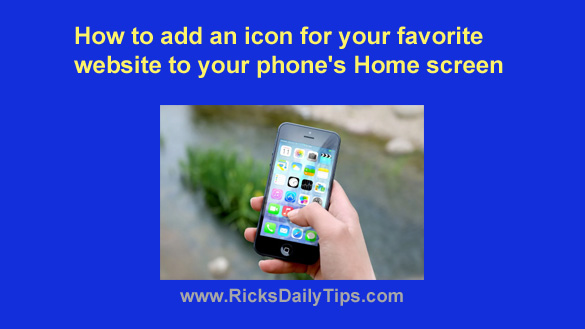 Do you have a favorite website that you visit on a regular basis with a browser on your smartphone?
If so, you probably have that site bookmarked in your browser so you can quickly launch it whenever you want to visit it.
But did you know you can actually place an icon for your favorite site(s) right on your phone's Home screen?
In fact, you can even create an icon for any specific page, not just the site's home page.
Having a dedicated icon for your favorite website or page will allow you to go straight to it with a single tap without having to first open the web browser.
Just tap the icon, and boom – you'll instantly see it displayed in the browser.
You can easily create direct-link icons to your favorite websites and web pages on both Apple iOS and Android phones. Just follow the steps below that correspond to your device/browser.

If you have an iPhone…
Note: The steps below will work on an iPad as well.
1 – Visit the website (or specific web page) in your Safari browser.
2 – Tap the Action button (the square button with the arrow pointing upwards).
3 – Scroll down and tap Add to Home Screen.
4 – Tap the Done button. The icon should now be on your Home screen.

If you have an Android phone with the Chrome browser…
Note: The steps below will work on an Android tablet as well.
1 – Open Chrome and visit the website (or specific web page) you want to create an icon for.
2 – Tap the three vertical dots to the right of the address bar to display the browser's menu.
3 – Tap Add to Home screen.
4 – Give the shortcut icon a name that will allow you to quickly recognize what the icon is for.
5 – Tap Add.

That's all there is to it. From now on you'll be able to go straight to your favorite website(s) with a single tap!
---