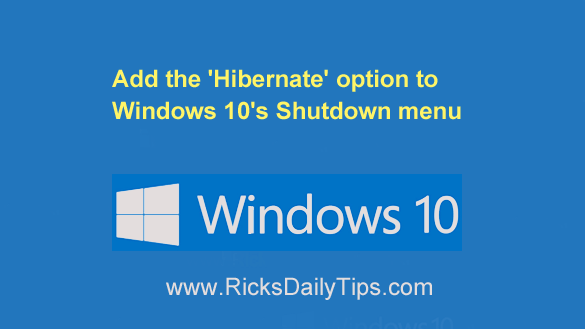 As you probably know, having to shut down your PC can be a major hassle at times.
This is especially true if you know you'll have to reopen all the programs and websites you're currently using the next time you power the machine back on.
Luckily, that scenario can be avoided by selecting a special shutdown mode called Hibernate.
Putting your computer into hibernation instead of just shutting it down will enable you to simply pick up where you left off during your last computing session without having to reload anything.
Don't worry, hibernating your laptop won't drain the battery because the hardware will truly be shut down instead of "putting it to sleep".
I use this awesome feature a lot, and chances are you do as well. But if your computer is running Windows 10 you have probably noticed that the Hibernate option is disabled in Windows 10 by default. Luckily, it's very easy to enable it. Here's how:
1 – Press the Windows+S key combination to open a "Search" box.
2 – Type the words power options it into the Search box, then select Power & sleep settings from the list of search results
3 – Scroll down and click Additional power settings.
4 – Click Choose what the power buttons do.
5 – Click Change settings that are currently unavailable.
6 – Scroll down to the "Shutdown settings" section and check the box beside Hibernate.
7 – Click Save changes.
That's all there is to it. From now on you'll be presented with the option of hibernating your Windows 10 computer in addition to all the other shutdown options.
Note: Selecting Hibernate instead of Shutdown will extend the time required to shut down and start up your PC since Windows has to save a "snapshot" of the current operating environment before shutting the system down, then restore it at the next startup.
---
Never miss a tip!  Click here to sign up for my free Daily Tech Tips Email Newsletter!