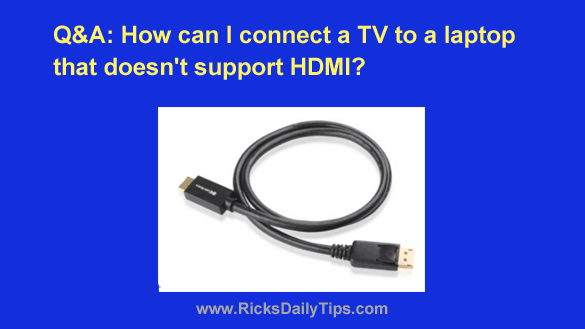 Click here to sign up for my free Rick's Tech Tips Newsletter!
---
Note: The links in this post are affiliate links.
Question from Kevin:  I have an older Lenovo Thinkpad T520 laptop that I'd like to hook up to a spare 40 inch flat panel TV that I'm not using so I can watch Netflix on a larger screen.
The problem is the Thinkpad T520 doesn't have an HDMI port and the TV doesn't have a VGA connector.
Is there any way to add an HDMI port to this laptop so I can connect my TV to it?
Rick's answer:  Kevin, there are a couple of ways to add an HDMI port to your laptop, but you really don't need to.
Your Thinkpad T520 is equipped with a DisplayPort connector that provides video signals that are 100% compatible with HDMI.
That means all you need is an inexpensive DisplayPort to HDMI adapter cable
.
You can get one of these cables from Amazon for as little as $10. You might also be able to pick one up at your local electronics retailer if they have one in stock.
Either way, once you get the cable just plug the DisplayPort connector into your laptop and the HDMI connector into the TV and you'll be in business!
By the way, your DisplayPort to HDMI adapter cable will transmit audio to the TV as well so you won't have to run a separate cable just for the audio.
Had you connected the TV via the VGA port using an adapter you would have also had to use a separate audio cable.
I hope this helps Kevin. Good luck!
That's perfect Rick. Just ordered one! Thanks for your help.
---
Cick here to ask me a tech question.